Voxer PRO: Solution for Event Management
Anyone who has ever planned a large event, understands how many logistical pieces must come together to make an event successful. These logistics cannot align successfully without fast and efficient communication. Event planners and staff have long relied on two-way radios or walkie talkies for event communication needs, but in the age of smartphones and ever-advancing technologies, walkie talkies are outdated and limited in features.
Why Walkie Talkies Just Don't Cut It
There are quite a few limitations with walkie talkies that can create communication barriers, leaving you and your entire team vulnerable to communication errors.
1. Range Restrictions: Walkie Talkies are often limited by range. Most walkie talkies and two-way radios have a range of around 100 feet, or even shorter if your range is limited by physical barriers and landmarks.
2. Interruptive: Radios are bulky, loud and interruptive. With an ongoing stream of information coming through at all times, blaring messages from a walkie talkie are disruptive for your guests. What's worse, if the event is particularly loud, messages can be missed among the noise, leaving event staff out of the loop and missing critical event information. Additionally, with different channels on walkie talkies, you might miss important messages completely because they are not saved.
3. Expensive: Lastly, radios are expensive. Renting radios for a single event can cost up to $250.00, while buying radios is exponentially more expensive with thousands of dollars in annual licensing fees and hundreds of dollars spent per radio.
Introducing, the Smart Two-Way Radio
We call Voxer PRO "the smart replacement for two-way radios" because Voxer takes the essential element of live voice communication from walkie talkies and combines it with other added features that make Voxer PRO more flexible, more affordable, and loaded with extra features for effective team communication.
Voxer PRO works on any iOS, Android, and even on your computer with Voxer for Web. If employees already have a smartphone, once you sign them up, they can download the Voxer app right onto their phone, sign in, and start sending messages. Voxer PRO customer, Wolf Trap Foundation, a nonprofit theatre group based in Virginia made the switch to Voxer from two-way radios for their signature fundraiser event. Assistant Director of Events, Jen Schnizler told us,

The event couldn't have gone better, and Wolf Trap raised a record amount of funding in support of early childhood arts and education programs.
Moreover, Voxer works on any data network (3G, 4G, LTE and WiFi) and also works in areas where coverage is limited, eliminating the range restrictions of walkie talkies. Every message on Voxer is sent live and also simultaneously recorded for later playback. If there is no data connection, the message waits on the device until service is restored and is then sent out.
With Voxer PRO, you can even control the level of interruption. As previously stated, every message on Voxer is sent live and simultaneously recorded. If a member of your event staff is customer-facing, the message will be available to listen to on their device when they have a chance to listen. Or users can enable Walkie Talkie Mode, a Voxer PRO feature that allows voice messages to play aloud as they come in, either directly from the phone or from a wired headset or lapel speaker to use the service handsfree.
Event and conference management company, Boardroom Events recently made the switch from walkie talkies to Voxer PRO because they found walkie talkies so interruptive at their events. Speaking about Voxer, Vice President of Marketing and Sales at Boardroom Events, Charlene DeCesare, said,

Finally, Voxer is more affordable. Voxer PRO costs only $3.99/month per user with no contracts, licensing fees or extra equipment needed. Voxer PRO even allows you to scale your number of subscriptions as needed, so you can increase or decrease the number of seats in your account at any time. Intel Capital saved over $67,000 by switching to Voxer PRO for their annual Sales and Marketing meeting. Intel's Special Events Coordinator, Tammy King said,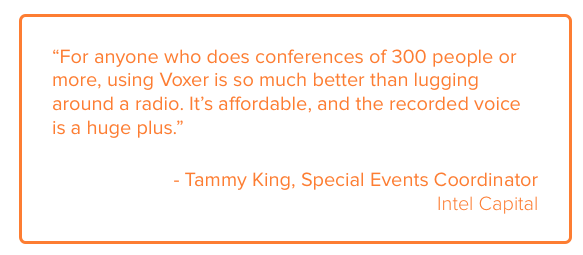 These are just a few ways Voxer PRO can benefit event managers and coordinators. For a full list of benefits, please read our Events Management White Paper. If you have questions about using Voxer Business for your events, please contact sales@voxer.com.