6 Ways BYOD Increases Enterprise Productivity and Profits
The rising BYOD trend is no longer a movement, but a reality for many enterprises. According to Gartner, 38 percent of enterprises expect to stop providing devices to employees by 2017, and half will require workers to supply their own device for work purposes.
With the rapid global adoption of connected devices, employees are, and will continue to use their personal devices for work related tasks. While there are risks to security, if implemented correctly BYOD can put you ahead of your competition by increasing your company's productivity, efficiency and profitability. Here's how:
1. Cut Costs on Devices: The clearest benefit of embracing BYOD is that programs generally shift costs to the employees. The majority of people already own suitable devices, saving the company money on hardware, data and services. While some people could be expected to revolt against paying, the Good Technology State of BYOD Report states 50 % of enterprises with BYOD programs are requiring workers to cover all costs – and they are happy to do so.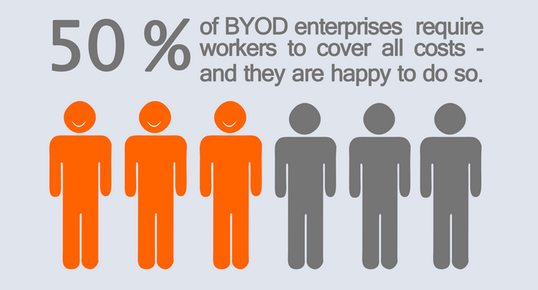 2. Improve Employee Satisfaction: Workers are happier, and more comfortable using devices they know and love, instead of devices issued by the IT department. A survey from software and consulting company Avanade says 37% of BYOD organizations are more likely to report improved employee satisfaction, in addition to "a greater emphasis on creativity and greater ability to solve problems."
3. Happy Employees = Longer Hours: As a result of being comfortable with their chosen devices, and having the option to work from anywhere, employees are more accessible and happy to put in extra hours. As reported in the BMC Software survey, BYOD employees work an extra two hours, and send 20 more emails per day. One in three BYOD workers checks work email between 6 a.m and 7 a.m, and one in four check between 11 p.m and midnight.

4. Access to Top Talent: Having grown up with technology, Gen-Y are tech-savvy and there's no question that millennials want employers to support BYOD. But why are they so important? By 2015, millennials will make up the largest segment of the workforce, according to the U.S. Bureau of Labor Statistics. This is putting pressure on enterprises to implement tactics to recruit and retain young talent, and BYOD will help with this.
5. Option to Implement Mobile Apps: While most usage of BYOD comes from basic tasks such as emails, reading documents, and managing schedules, BYOD gives the option to take advantage of mobile applications that simplify business processes.
6. End Result: Increased Productivity and Profits: All these factors combined empowers employees, which in turn increases productivity and moves the company's bottom line. Intel implements BYOD across 17,000 employees and in 2011 they reported an average increase in productivity of almost an hour a day. For the company combined, thats an annual productivity gain of 1.6 million hours. Not only does it affect productivity levels, but sales as well. The report by Avanade revealed that organizations adopting BYOD were 73% more likely to report improved sales and new customer acquisitions. What's more, 58% reported a greater ability to bring new products and services to market, and 54% said their companies were more likely to report increased profits.
BYOD has been called many things: a revolution, a trend, and even the IT departments nightmare. But perhaps the most fitting word to describe it would be inevitable. As corporate data shifts to online database software, and device ownership continues to increase, employees will use their devices for work related purposes.  While enterprises can condone BYOD, if managed properly the benefits of BYOD outweigh the risks.
How has BYOD helped your company realize greater efficiency and productivity? If you haven't implemented a program yet, maybe its time you consider.