What's Your Account Balance?
By Fred Ende, Assistant Director of Curriculum and Instructional Services for Putnam Northern Westchester
I'm a Voxer lover. Truly, I am. Much has already been said about the benefits of connecting with others vocally has over text, and the way a tool like Voxer helps build relationships. So, I'm not going to explain my Voxer "addiction" (as my wife might call it) through that lens directly.
Rather, I've realized that what really keeps me tied to Voxer is the way it has helped me bolster my accountability, both towards myself and for others.
Regardless of your profession, accountability is a necessity. Built from a foundation of trust, relationships, action-taking, and positive risk, being accountable is one of those attributes that we know is important to success.
And yet, it's also an attribute that can easily be pushed by the wayside, particularly when the "accountability rating" isn't "emergency."
I'll admit that I've sometimes struggled with being accountable to myself, and when I've tried to be accountable to others across long distances (i.e. virtual accountability via a tool like Twitter), I haven't been as effective as I would like to be.
Interestingly, all it seems to have taken is a different tool, one that allowed relationships to form a little differently, in order for me to have a more positive "account balance."
What is it about Voxer that helped me to become a more accountable person (both personally and professionally)? Three things:
Let Me Hear Your Voice. I've learned I'm much more open to asking for assistance, and providing it, when I can connect with people by voice. A picture helps, direct communication is great, but in the absence of face-to-face direct contact, a voice, vocal expression, the exhibition of emotion, makes all the difference for me.
The Goldilocks Factor. When it comes to forming a group of critical friends, we can impart the Goldilocks Rule ("Not too Large, Not too Small; Just Right"). In the case of group size, there is a Goldilocks factor, and for me, it makes a large difference for my accountability. The sea of awesome people and ideas flowing on other social media tools like Twitter tends to make it easier for me to get lost (or, to allow myself to get lost and blame it on the tool, rather than myself ☺). But, the ability to build your own group via Voxer and determine how big it gets, allows purpose to be a determinant of decisions. The Voxer group I engage with multiple times per day is composed of roughly ten participants. Not too large, not too small, and just right to engage in productive conversation.
Make Me Feel At Home. We live in a multimedia society where at any given moment, we could be responding to emails, answering a phone call, viewing a video on our phone, while engaging in face-to-face conversation (I'll admit, I often lie in bed with my wife,, playing TriviaCrack on our devices, talking about how our days have gone, all while the TV is on. . . with no one watching). The multimedia features that Voxer integrates aren't necessarily different than in many other tools. But, it's the overall design with the inclusion of those tools (whether it be text, picture, video [hopefully soon for us Android users]). It makes me feel like I'm home. if we love our spaces, we're more apt to do our best work and be our best selves in them.
Voxer has helped me to bring my "account balance" back to black, and way out of the red. It's an example of how a tool can become much more than a tool. For me, it's become a sort of self-help book, an electronic mantra, if you will, that helps me remember that accountability must never be forgotten.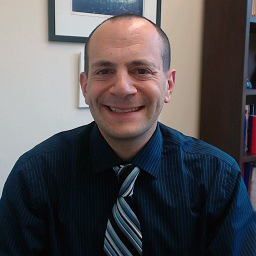 Fred Ende is the Assistant Director of Curriculum and Instructional Services for Putnam Northern Westchester BOCES. Prior to this role, Mr. Ende served as the Regional Science Coordinator and Director of SCIENCE 21 at PNW BOCES, and worked for ten years in Chappaqua as a middle school science teacher and department chair. He is one of ASCD's Emerging Leaders, and currently serves as New York ASCD's Vice President. He has both written and reviewed manuscripts for the National Science Teachers Association and ASCD, and has been both a national and regional presenter for a number of different organizations. Fred can be reached at fende8867 on Voxer and @fredende on Twitter.