Re-imagining live communication for the on-demand economy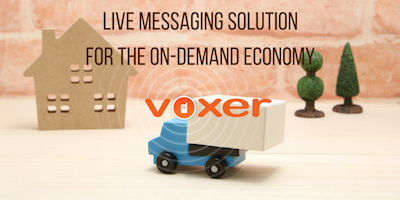 On-demand services are just beginning to hit their stride, and the market opportunity is massive. The on-demand economy has revolutionized the way goods and services are bought and sold, and there is no doubt that this trend is here to stay. Fast-moving technology has a big part to play in both changing consumer behavior and in developing new models that are transforming industries, such as the ground transportation, grocery, laundry services, and restaurant industries.
Instant messaging in particular has played a big role in improving the on-demand economy landscape by facilitating the way service providers communicate and share information. Here are some key business solutions that Voxer Pro provides for the on-demand service economy:
1) Hands-free, live communication
The ability to communicate instantly and hands-free is paramount for the on-demand economy. Voxer Pro allows users to quickly engage with messages hands-free with a headset or lapel speaker, even if the app is closed and the device is locked. Every message on Voxer is sent both live and is recorded for future playback.
Read receipts show who has read/heard a message, so you know when the message has been consumed and should expect a reply.
2)  Maps and location sharing
Voxer's location sharing feature display the contact's location of the last message they sent, so there is constant transparency of the location of the driver and quick access to directions and maps.
3) File sharing and rich messaging
In additional to live voice, you can share files, images, videos all within Voxer's rich messaging application. You have the ability to 'favorite' important messages, share messages via email, and save them to your computer.
4) BYOD (Bring Your Own Device)
The on-demand economy is inherently BYOD, rather this is your own vehicle, bike, or mobile device. Everyone who has a smart phone is fully equipped to use Voxer. It's that simple. Voxer works for iOS and Android devices, and is also available on web browsers. Voxer messages are synced seamlessly across all of your devices. That is particularly helpful so stationary staff can stay in the loop of what is happening in the field.
5) End-to-end encryption
Voxer's Private Chats feature offer a solution for the privacy-conscious delivery businesses. While all Voxer messages are secure, when you create a Private Chat, only the person who is receiving your message can listen, read, or see it. Private Chats use the Signal Protocol, known as the gold standard for secure message encryption.
6) Voice-to-text transcription
Transcribe voice messages into text, when listening to audio isn't ideal. This is an extremely handy tool for customer-facing workers and those in-and-out of loud environments.
7) Full message control and team management
Unlike other team messaging apps, Voxer allows managers to moderate group chats, add/remove users, manage account payments, and broadcast announcements to large groups.
For more information on how to get your team on Voxer Pro, visit our step-by-step guide .