Bringing Communities Together with an Audio Messaging App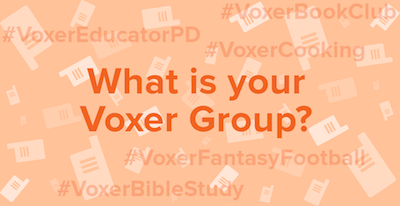 It's quite amazing to see the various use cases of Voxer across the world. From an active educator community, book clubs, bible study groups, and fantasy football leagues, Voxer is connecting communities in fantastic ways.
First and foremost, we can't hide our admiration for the immense effort that educators have put in to implement Voxer as a professional development tool in their community. From comprehensive directories to entire conferences held solely on Voxer, this crowd has taken key Voxer features to the next level.
They connect in large groups (up to 500 per chat) for meaningful discussions in professional development and classroom tactics. Participants can find topics of interest via group chat links distributed via twitter or various directories. Since they are part of such active chats, these users take advantage of notification management, as well as chat moderation with admin control and broadcast chats. The ability to use live voice is "so important because hearing others actual voices/inflection adds a tremendous amount of detail to their ideas." – says Jasper Fox Sr., avid tech educator and host of Learning Lab Radio podcast.
Another fascinating example of communities that have come together on Voxer is the virtual book clubs. The motivation here is to discover new books and engage in insightful discussions on literary topics in a flexible and asynchronous format. In the words of Voxer book club organizer Lisa Pagano: "Voxer is flexible. It captures your thoughts and ideas in real time, but you can listen, read, and respond as your schedule allows. It is a warm, inviting, and collaborative atmosphere where all ideas are welcome."
Finally, we have been huge fans of the fantasy football leagues on Voxer. This group uses Voxer as its primary communication tool for trades and hilarious discussions.  The grassroots for this irreverent movement initially came out of frustration with the built-in MFL chat app, but soon caught on due to the ability to enjoy some live voice banter during the games.
We are grateful to learn Voxer is bringing people together and engaging communities in so many unique ways.