Voxer and the Advent of Interplanetary Communication
By Jim Panttaja, Head of Corporate Development and Member of Voxer's Founding Team
When we send the first human crew to Mars, the delay in communication will be between 3 and 20 minutes (it depends on the positions of Earth and Mars in their orbits).
This presents an interesting question to NASA and other space agencies: How will this change the way people communicate?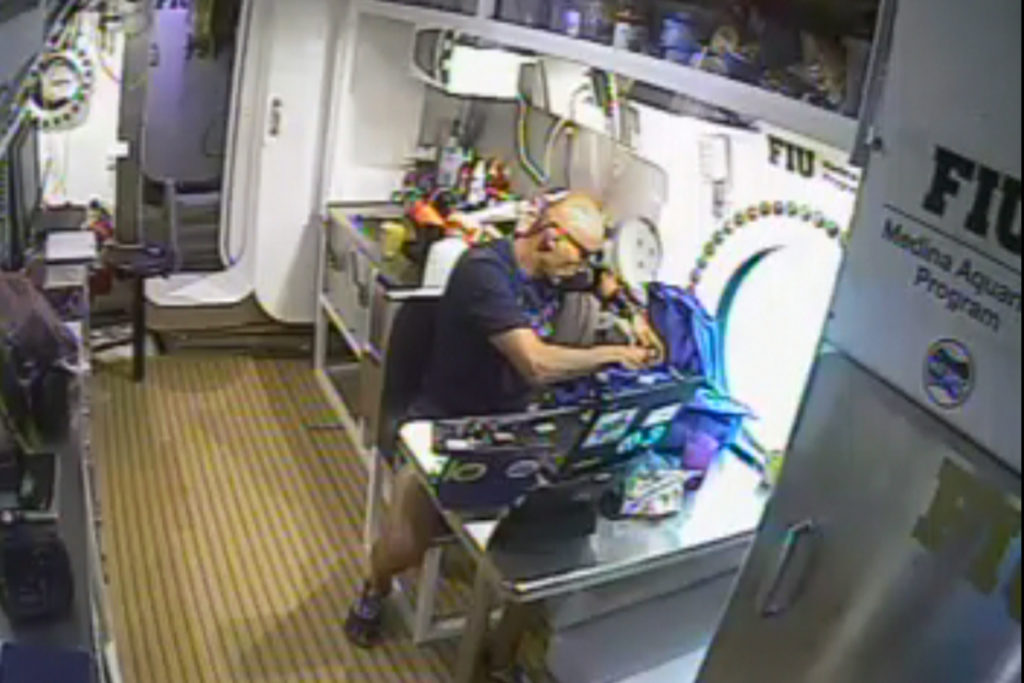 NEEMO 20 Mission Commander Luca Parrmitano in Aquarius. Screenshot: Florida International University.
To investigate the impact of these delays, NASA has incorporated an artificial delay in communications into some of its analog missions. (Analog missions simulate some of the characteristics in the extreme environment of future space missions. Go here for more info.) Voxer has participated in three of these missions over the last year. First came NEEMO 19 last September, then HI-SEAS 3, which ran for 8 months starting last October, and now NEEMO 20.
Starting July 22, on Mission Day 3 (MD3) of NEEMO 20, Voxer modified its servers in a Voxer appliance provided to NASA, to add a five minute delay to all of NEEMO's Voxer messages. On July 24 we increased the delay to 10 minutes. This means that any message sent from Mission Control Center (MCC) to Aquarius (NEEMO's underwater habitat) is delayed by five minutes before it is delivered. And any message from Aquarius to MCC is similarly delayed.
This dramatically changes the style of communication. Messages must be more thorough. With a 5 minute delay, the earliest reply will be in 10 minutes. Thus, voice messages tend to be longer. And depending on the situation, text messages are sometimes a better way to communicate. It's quicker to re-read text than it is to listen to a voice message, because the eye travels faster. And images are always helpful.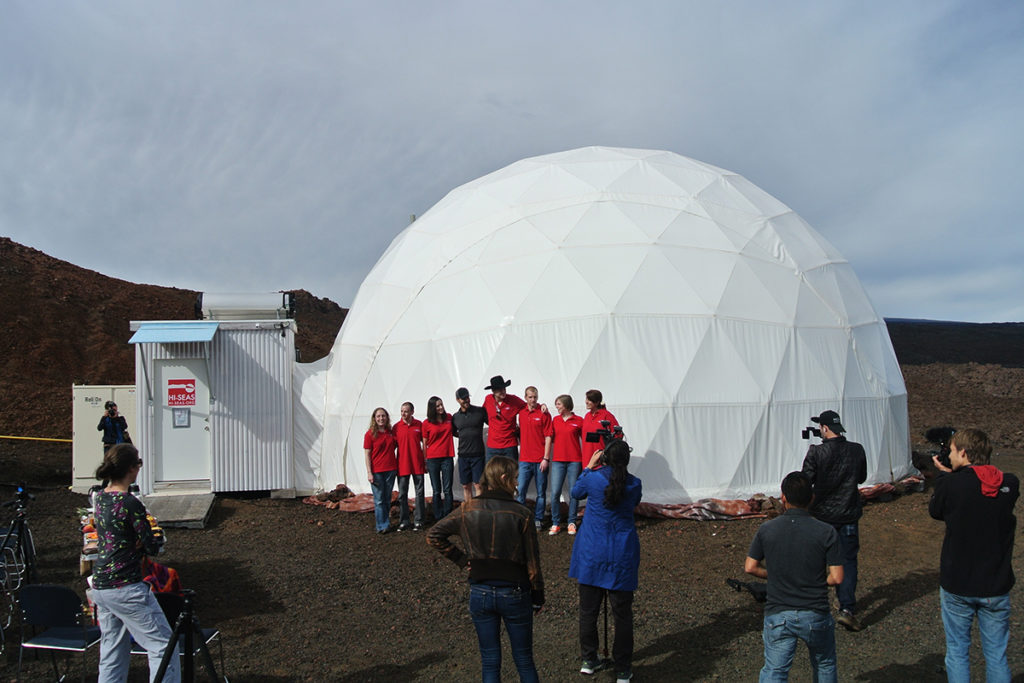 The HI-SEAS crew emerging from their habitat on June 12, 2015. Photo: Jim Panttaja.
During HI-SEAS, participants were away from their friends and families for 8 months. We applied the same delay for them. The fact that Voxer enabled the crew to hear the voices of their friends and family (and vice-versa), was a huge factor in maintaining a sense of connection. Even with a delay.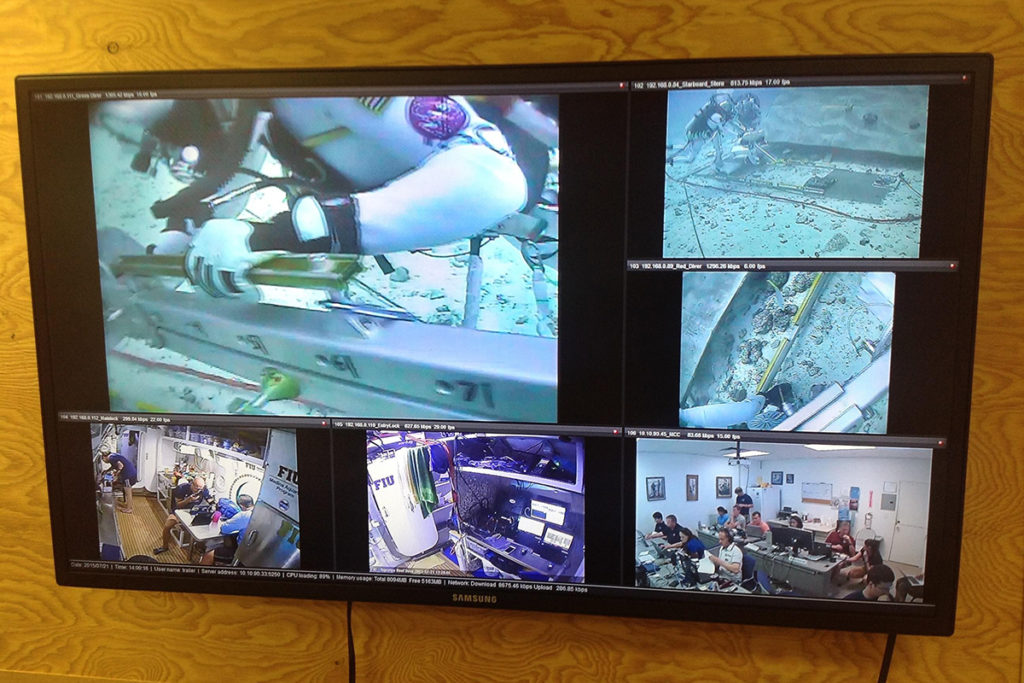 Monitor with delayed video feeds of Aquarius and Mission Control. Photo: Jim Panttaja.
For the first few days of NEEMO 20, I worked onsite, along with Voxer Engineer, Paul Phu. We split our time between the MCC (Mission Control Center), and the Science Trailer (literally a 40-foot long trailer, complete with plywood walls, electricity, air-conditioning, and WiFi). There are monitors in both locations showing live video feeds from Aquarius – all delayed. In the image above, the top 3 panels are views outside of Aquarius – displaying the EVAs (Extra Vehicular Activity) in progress. The bottom left and bottom middle panel are views from inside Aquarius. You can watch the live feeds online.
The bottom right panel is an image of the MCC. In this case (the image was taken on MD3 – Mission Day 3), the video feed was delayed five minutes.
At one point I had a "Bill and Ted's Excellent Adventure" moment. I was in the MCC, and went to the Science Trailer five minutes later. I looked at the monitors in the Science Trailer, and there I was on the MCC screen! That's me in the back with my camera. Do you see the black chair, back right? That is Voxer's official seat in Mission Control.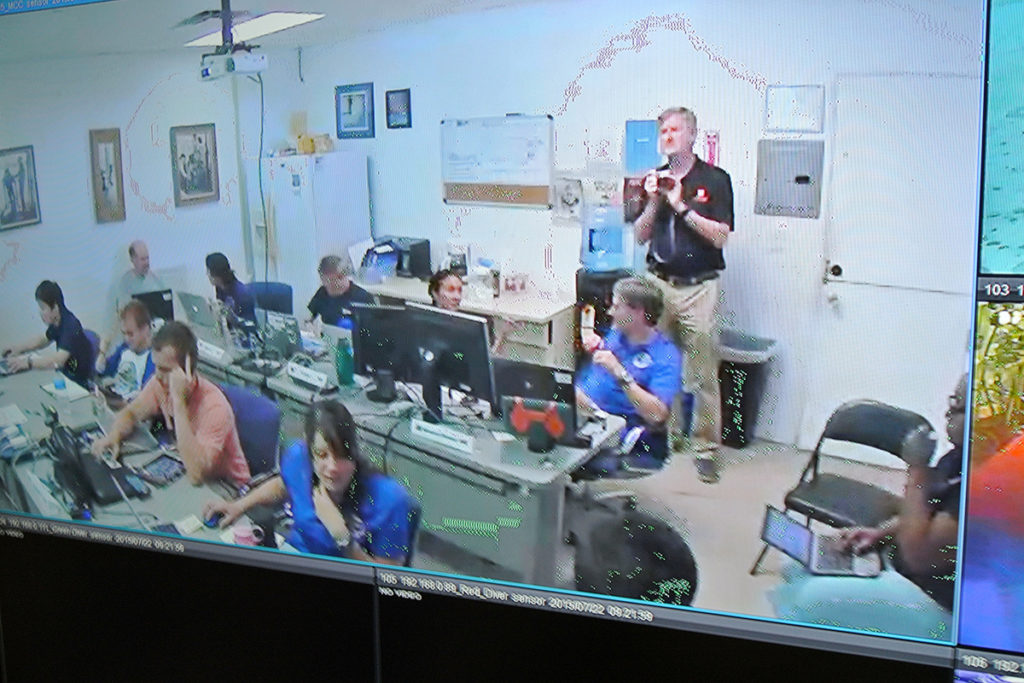 My "Bill and Ted" moment. Photo: Jim Panttaja.
Voxer is well-suited to the requirements of both of these analog missions. The reliable delivery of Voxer guarantees that the message gets through – even if the internet signal is interrupted. It should be noted that Aquarius's network is delivered by a cable about five miles to a buoy offshore. That buoy is rocking in the current, wind and waves. The signal is sent down 60 feet via a conduit.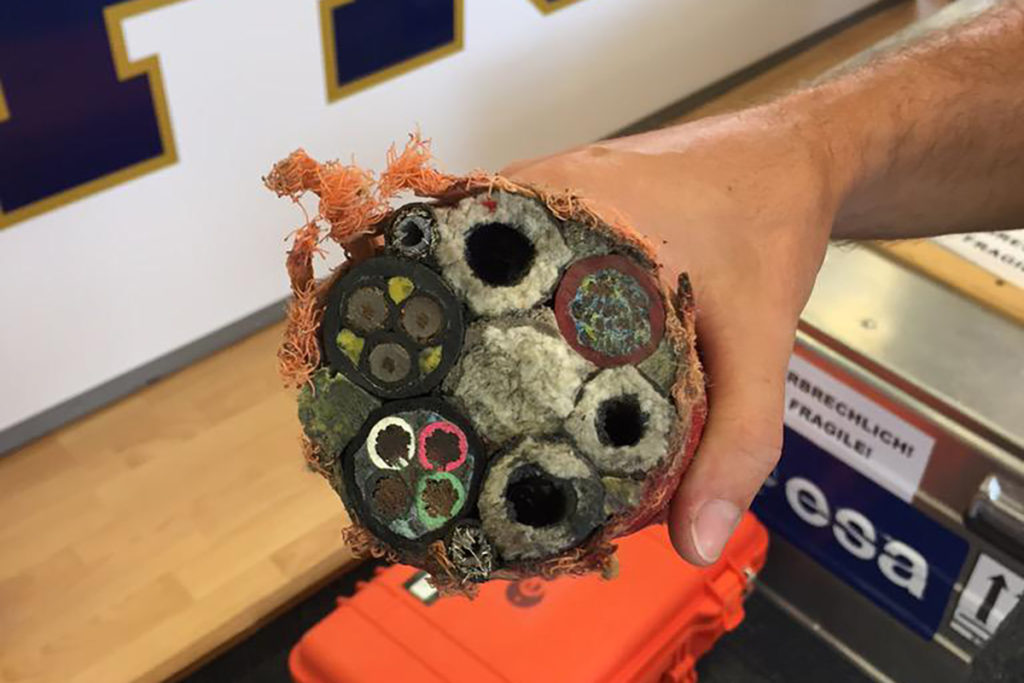 A cross-section of the conduit used to provide services from the buoy down to Aquarius. Photo: Serena Aunon.
Although the network is surprisingly reliable – it does drop connections. But Voxer messages always get through. In fact, during the week preceding NEEMO 20, Voxer was regularly utilized to coordinate installation and configuration of other systems. And since the mission began, Voxer has been vital to coordinate tool evaluation for use on future space missions.
____
Featured Image: CapCom Hervé Stevenin using Voxer to communicate with Aquarius, NEEMO's underwater habitat in Florida. Photo: Paul Phu.