Underwater with Voxer: Astronauts Prep for Space
By Jim Panttaja, Head of Corporate Development and Member of Voxer's Founding Team
Dreams of Outer Space
I grew up watching the Gemini and Apollo launches and missions on TV, for which I got up very early in the morning. I marveled at NASA's management of the incredibly complex – and dangerous – processes associated with a mission.
For the next two weeks I get to play a small part in that. NEEMO 20 – "NASA Extreme Environment Mission Operations" – is a two-week mission 62 feet under the sea in the Florida Keys. NASA runs analog missions like NEEMO to prepare for future trips to asteroids or Mars. Being underwater is much like being in outer space: it's similar to limited gravity and an unfamiliar environment. Four "aquanauts" will live in an underwater habitat called Aquarius. Each day they emerge from the habitat into the water to do repairs on the base and conduct experiments, as they would on a spacecraft.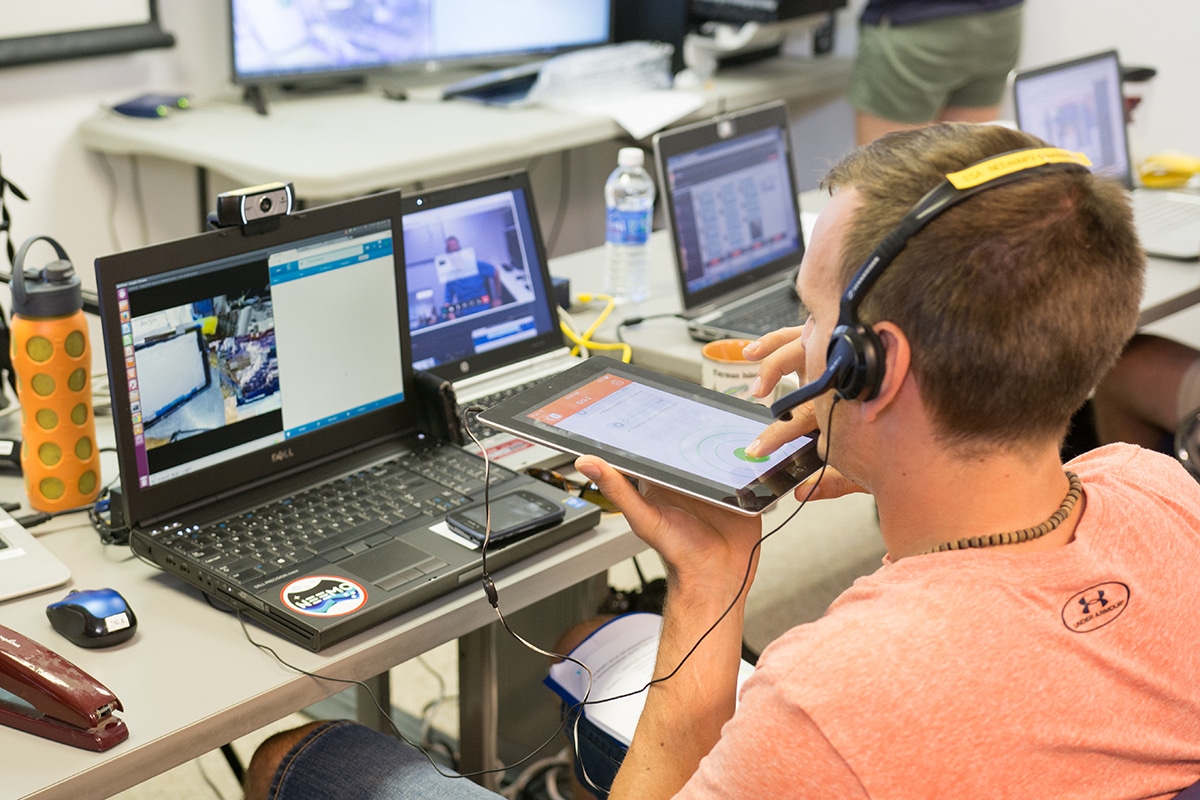 Andreas Orth, NEEMO 20 CapCom. Photo by Paul Phu.
How is Voxer Involved?
Voxer is providing the primary voice communication for the mission. Voxer engineer Paul Phu and I are onsite to ensure that this runs smoothly.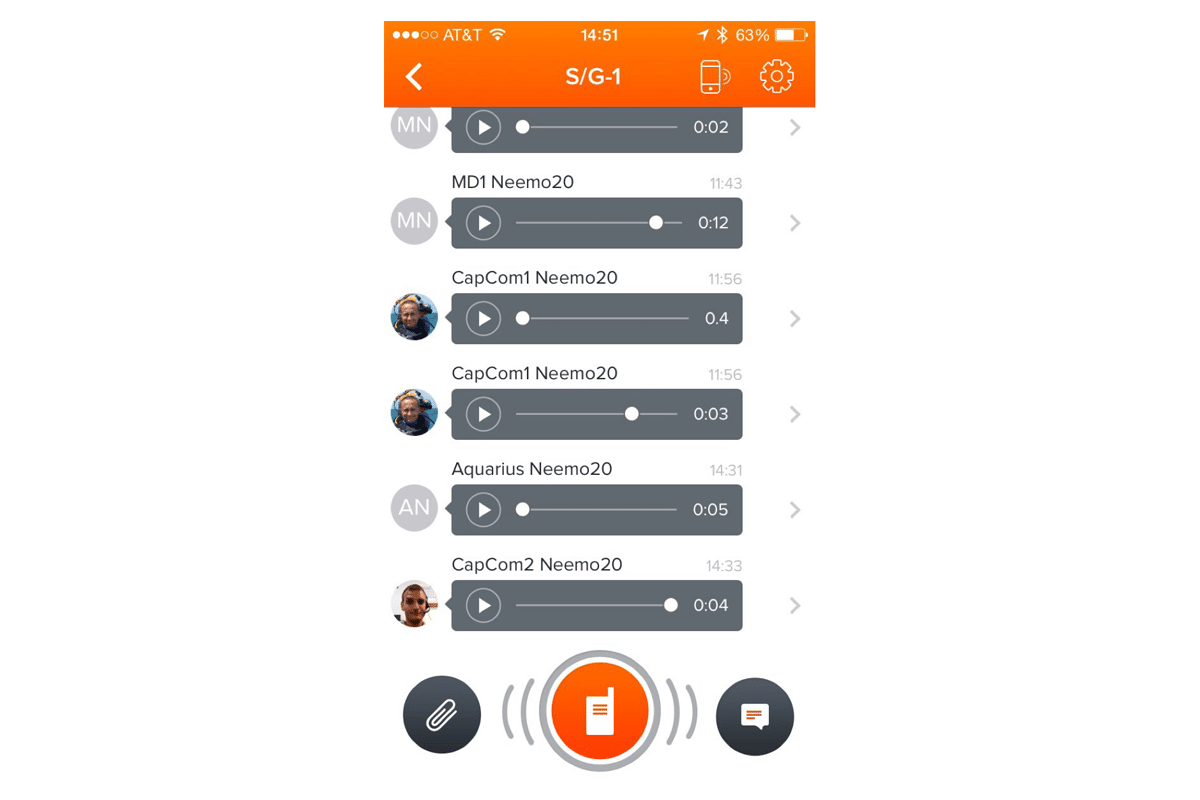 This Voxer chat shows three users: MD1 (Mission Director), CapCom1 (Capsule Communicator – primary voice of Mission Control) and Aquarius (aquanauts in the habitat).
We have deployed a separate Voxer appliance dedicated to NASA missions. This app was utilized in NEEMO 19, last year's mission, and HI-SEAS in Hawaii. (I wrote about the Hawaii mission in this post.)
It's All in the Prep
The week before "splash-down" is a training week for the astronauts, also known as "aquanauts" in the underwater world. It's a busy time setting up all of the systems required to support the mission. In addition, the support staff is prepping new tools that the aquanauts will utilize in Aquarius (the underwater habitat) and on EVAs (Extra Vehicular Activity) that they will execute.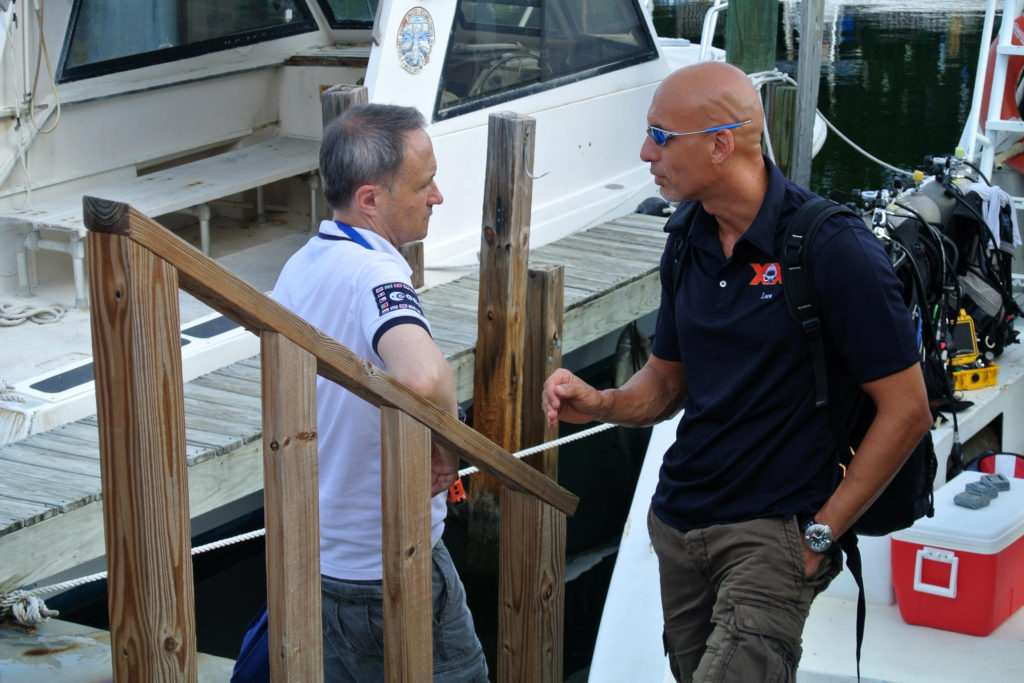 Mission CapCom Herve Stevenin – an aquanaut in NEEMO 19 – and Mission Commander Luca Parmitano of NEEMO 20 discussing last minute logistics before the crew leaves the dock. Photo by Jim Panttaja.
I am writing this during training week and there are 50 people in the facility at any one time – the astronauts (from ESA – European Space Agency, JAXA – Japan Aerospace Exploration Agency, and NASA), mission control staff, Aquarius Reef Base staff, representatives from ESA (European Space Agency), and various teams with experiments (vehicles, wearable devices, and booms). Everyone is focused on their piece of the puzzle, but support from others is often needed. And everyone is eager to assist one another.. Everyone's task is important, and we all know that.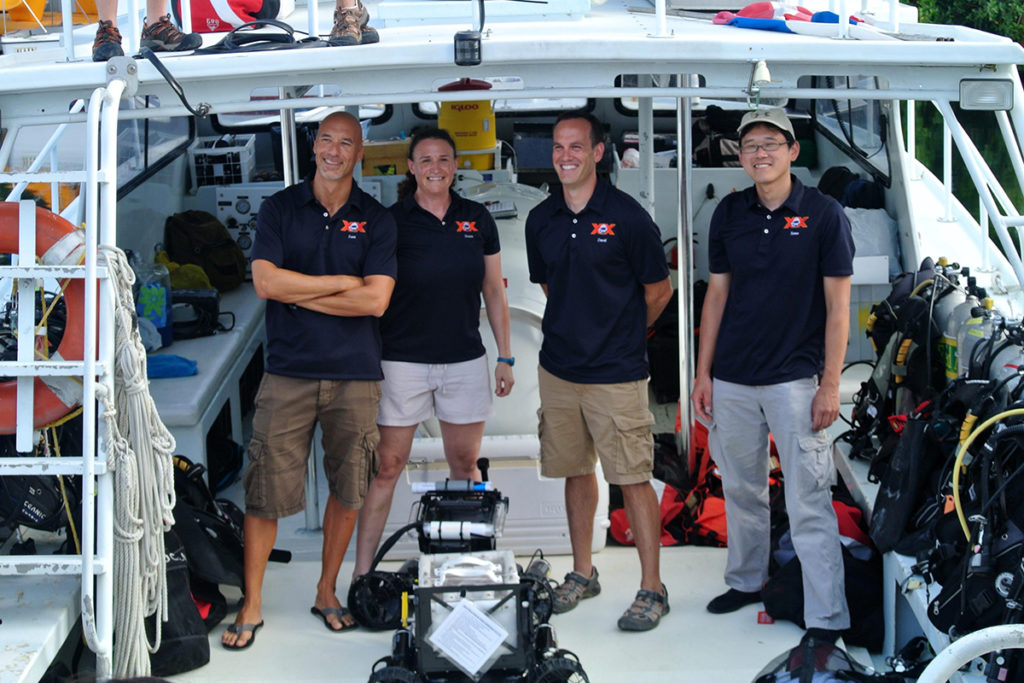 NEEMO 20 aquanauts preparing to leave the dock: Commander and ESA Astronaut Luca Parmitano, NASA Astronaut Serena Aunon, NASA spacewalk specialist Dave Coan, and JAXA Astronaut Norishige Kanai. Photo by Jim Panttaja.
A Team Effort
It may only be training week, but the boats go out to the habitat daily. At the end of the day, the boats return, and everyone at Mission Control emerges to help. The amount of equipment here is mind-blowing, and it takes many hands to unload. Last night I was rinsing weight vests.
At dinner I sat between Japanese Astronaut Norishige Kanai, who goes by Nemo, and a NASA scientist who works on anchoring technology. As a boy I never would have dreamed that I would be participating in a NASA mission. At the end of the day, even the astronauts are just regular people, some with very special training and experience, but we are all here to support the same thing: a two-week mission under the sea.
Splash-Down!
The video below shows the aquanauts leaving the dock on July 20, 2015, the first official day of NEEMO 20.
https://www.voxer.com/v/51312613d5
____________
Featured Image: Photo from NEEMO 16, taken on June 18, 2012. Bill Todd pilots the Deepworker submersible while aquanaut Steve Squyres prepares to translate to next science location. Creative Commons.
Read post 2 of this series on Voxer's partnership with NEEMO: Voxer and the Advent of Interplanetary Communication