Spreading love and waging peace: one 'vox' at a time.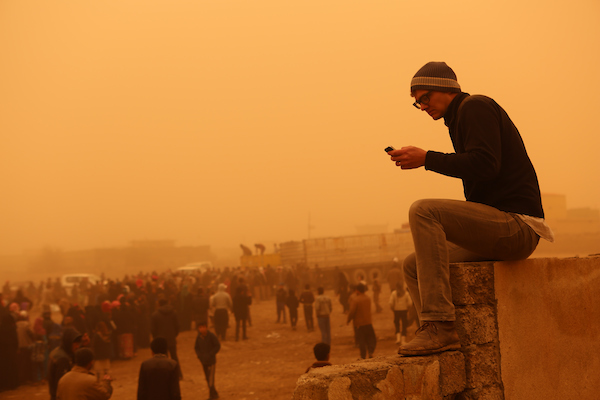 "We're out to unmake violence" is the moto of the Preemptive Love Coalition, a peace-making organization based in Iraq since 2007. The Preemptive Love Coalition takes pride in confronting fear with acts of love and waging peace around the world by providing lifesaving heart surgeries for children, food and shelter for those persecuted by extremists, and small-business empowerment in conflict-zones like Libya, Pakistan, Iraq, and Iran.
We had the opportunity to speak with Preemptive Love's Vice-President JR Pershall about the challenges of peacemaking and the role that Voxer plays in their day-to-day team communications.
Voxer: What are the main objectives and motivations of the Preemptive Love Coalition?
JR: We serve on the front-lines of conflict in Syria and Iraq—bringing aid to families whose lives are shattered by war, and helping them start new businesses to provide jobs and income so they can pick up the pieces.
In recent months, we've brought food to more than 100,000 people in and around Mosul, Iraq—often reaching within a street or two of ISIS-held territory, unloading our trucks amid sniper fire and airstrikes. Our emergency kitchen near Aleppo, Syria, has served 1.6 million hot meals since December. We're repairing homes that were destroyed in the fighting in Aleppo, and  we're deploying ambulances to bring medical care to those who can't reach us. We also responded to families affected by the recent chemical attack, providing food and hygiene kits to safely decontaminate homes.
We don't believe families should have to wait till the dust settles to start rebuilding their lives.  This year we'll launch up to 400 refugee-owned small businesses, including 100 in Mosul alone.
What are some of the biggest challenges faced by your daily operations and how does having a reliable communication tool can help alleviate this?
We're spread across 10 time zones. Some of our team are based in the Middle East, and some are dispersed throughout the U.S. Basically, a reliable communication tool is the difference between whether we can function or not.
For our Iraq-based team, a "typical" day could be spent visiting Syrian families in a refugee camp, learning about their needs and helping them start small businesses. It could be spent on the front lines in Mosul, delivering food to starving families while the fight against ISIS rages a few blocks away. It could be spent coordinating the next aid delivery or refugee empowerment project with our local partners. Or sharing on-the-ground content with our supporters, so they can be part of the journey with us.
We do all this in places where a reliable network connection is a luxury, not a given. Yet we depend on the ability to communicate quickly with each other—so we can decide how best to respond to urgent needs, how to mobilize our supporters to help, and more. So we need something more than the standard communication tools.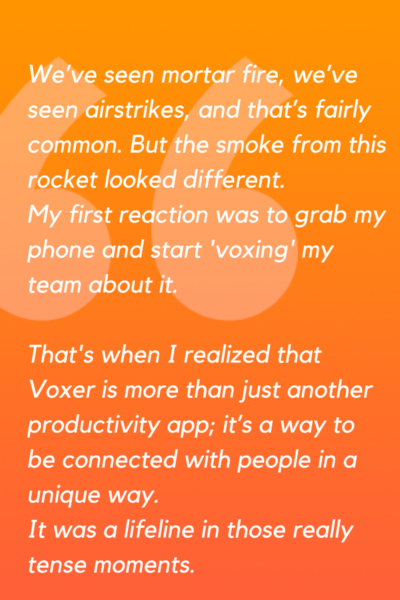 When did you realize Voxer was the right tool to use and why? 
Our Voxer AHA moment came when our senior field editor witnessed an ISIS chemical attack in northern Iraq. When members of our team go on high-risk aid missions, Voxer is how the rest of us keep up with them. It's how we know they're OK. It's how we can share updates with our supporters, sometimes within minutes of a major development or as it's happening.
Voxer has become a lifeline for all of us at Preemptive Love. It's a way to share real-time updates from the front lines. It's a way to hear the sounds of these aid deliveries—families scrambling for food, gunfire, airstrikes in the distance. It's a tool for bringing others along with us—in a way that wasn't possible before.
Matt Willingham is our senior field editor; he leads our field communications team in Iraq. He shared this after a visit to Sinjar, an area that was devastated by ISIS:
"I distinctly remember sitting with my back against the wall, leaning down against some windows, looking down at my glass of tea. And there's this loud BOOM! I don't know that this was the wisest reaction, but I grabbed my camera and my phone, and I ran up to the roof.
It was a very unnerving thing. We've seen mortar fire, we've seen airstrikes, we've seen all this kind of stuff many times. And that's fairly common. But the smoke from this rocket looked different for some reason. My first reaction was to grab my phone and start Voxing—after months of not being so sure about this app, my knee-jerk reaction was to just start talking [to my team] about it.
That was when I realized Voxer is more than just another productivity app; it's a way to be connected with the people in a unique way. It is a lifeline in those really tense moments."
We found out later that those were chemical rockets that ISIS had been launching at civilian populations.
How does your team uses Voxer day-to-day?
We use it to bring our team closer together, to have the conversations we couldn't otherwise have because we're not all in one place. Some discussions just can't be done well by email or instant messaging.
Our teams in Syria and Iraq use Voxer to send regular, real-time updates from the front lines—including photos and videos of what they're experiencing on the ground. We share some of these updates, raw and unprocessed, with our monthly sponsors. The ability to share audio, photo, and video all in one place is extremely useful, as is the ability to see team member's locations, especially when they are in high-risk areas.
Watch the video below to see the Preemptive Love Coalition's testimony with Voxer PRO.