Voice-to-Text Transcription Now Available for Android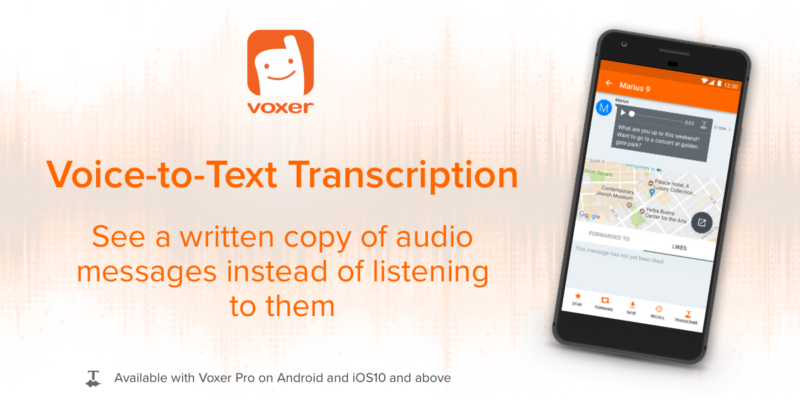 We are proud to announce that the Voice-to-Text Transcription feature is now available for Android users on Voxer PRO. This very useful feature transcribes your audio messages into text – so you can read them rather than listen to them.
Transcription has been near the top of our customers' wishlist. Today, we're making it easier for our Android users to consume messages more efficiently. Transcription is available for Voxer PRO customers on Android with the latest app update.  It's also available for iOS users.
With voice-to-text transcription, Voxer PRO customers can see a written copy of audio messages instead of listening to them.
To get started, open a chat, tap on the message details, and select 'transcribe'. The first 30 seconds of the audio message is converted into text instantaneously. Although accurate transcription is sometimes challenging, most users should get the overall meaning of what is being said when they read the transcribed text. All audio messages can be transcribed, with the exception of Private Chat messages (as these are end-to-end encrypted).
Without a doubt, your voice is the fastest way to communicate. It captures the intonation, clarity and emphasis that text simply can't. With Voxer, audio messaging it's as easy as tapping the 'talk' button. Your voice is delivered 'live' – while you're speaking, so recipients can listen immediately. In addition, all messages are saved for later playback.
There are times, however, when listening to audio can be impractical. This new feature gives users an incredible useful tool to engage with messages, for those times when listening to audio just isn't ideal.
Here is what you need to use the voice-to-text transcription feature:
Be a Voxer PRO customer
Be on the latest version of Voxer app
Transcription is available in U.S. English and Canadian English only
Get started with voice-to-text transcription:
Open a chat, select an audio message you want to transcribe.
Tap on message details (arrow on the right-hand side) or on the 'T" icon on the right-hand side of the audio message.
The first 30 seconds of the audio message will be converted into text instantaneously