Announcing Read Receipts and Message Forwarding for Voxer Business Users
As some of you may have noticed, we recently released two brand new Voxer Business features for both Android and Voxer for Web that can continue contributing to improved communication at your company. We're happy to bring you message forwarding and read receipts! 
Read Receipts: Small notifications located below a message that indicate the status of your message. One of three read receipts will be displayed below your message depending on the messages' status. Below are the three read receipts you will see.
Sent: A sent message means the message has been sent from your device and is en route to the recipient.
Delivered: Your message has been delivered to the other person(s) device and has not been viewed/listened to.
Heard/Read: The recipient(s) has heard or read your message.
Voxer Business users can use the Read Receipt feature by logging into the Android consumer Voxer app and logging in with your business credentials. The app will function exactly the same as your Voxer Business app. You can also use Read Receipts on the Voxer for Web client.
Message Forwarding: enables you to forward messages you sent or received on Voxer Business to other Voxer Business users that were not in the original chat. It works the same as forwarding your emails. Message forwarding is a great way to share information with others that would benefit from knowing it but weren't in the original conversation.
Message forwarding is available on both the Android consumer client (again, please log in with your Voxer Business credentials) and is also available on Voxer for Web.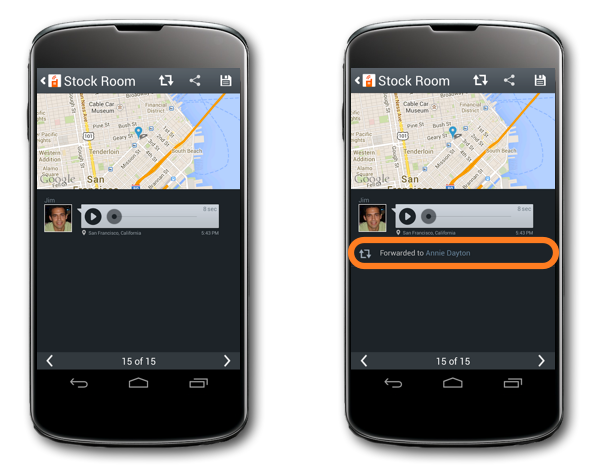 Have questions? Please contact us by emailing support@voxer.com.