A Better, Faster Voxer Experience for iOS Business Users
We have some exciting news for Voxer Business users on iOS devices! Allow us to introduce you to Voxer version 3.4 – a brand new experience for iOS. In Voxer v3.4, expect countless new features to make your communication as fast and productive as possible. 
If you are currently using the Voxer Business app found in the App Store, please download theconsumer Voxer app, named "Voxer", also found in the App Store to access all the new features. After downloading v3.4, log in with your existing business credentials and you're ready to vox. You can then uninstall the "Voxer Business" app from your device.
Download Voxer v.3.4 from the App Store to access new features such as:
1. Walkie Talkie Mode: Formerly known as Live Interrupt Mode, with Walkie Talkie Mode your phone has the ability to function like a two-way radio that can stream messages from your phone (or to a bluetooth or wired headset) even if your phone is locked and your Voxer app is closed. Better battery life, improved performance, and increased reliability are some of the improvements you'll notice.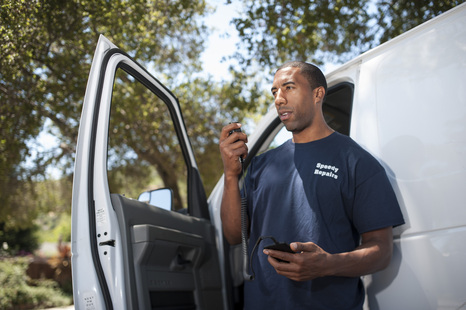 2. New Look & Feel: Upon logging in, you'll notice a completely redesigned interface and user experience.
3. Speed Improvements: We revamped our code to bring you the fastest Voxer app yet. Log in and you will immediately notice a faster app, along with increased audio and networking reliability. Your contacts load within seconds and messages are sent and received faster than ever, enabling us to give you the fastest possible response time.
4. Read Receipts: Voxer on iOS now includes read receipts with every message, so you know when your message was delivered and played, as well as by who for group messages. Messages will show as sent, delivered, or played (or "read" for text messages, "seen" for pictures). For more information on Read Receipts, check out our FAQ page.
5. Rename Your Group Chats: You asked for it – you now have the ability to change the name of previously created group chats. Once inside the group chat, simply select the Chat Settings icon, rename your chat, and select return to save. For more detailed instructions, along with screenshots, please see our Support Page.

*Please Note: Voxer v3.4 requires iOS version 7.0 or higher. If you are not operating on iOS 7.0 or higher, please update your iOS software to use Voxer v3.4.
If you already use the consumer Voxer app for personal use, please consider keeping the old Voxer Business application on your device, as well as the new Voxer, version 3.4 from the App Store to use both accounts at the same time.
Questions or feedback? Let us know! Please email support@voxer.com.