Voxer Launches for Windows Phone 8!
After loads of requests, heaps of emails, and Tweets galore asking for Voxer for Windows Phones, the day has finally come. 
Today, at Microsoft's BUILD conference, Voxer for WP8 was officially announced! After months of questions, three beta versions, and your much-appreciated, fantastic feedback, Voxer for WP8 is ready.
Just like the original Voxer for iOS and Android, Voxer WP8 users can share photos, texts, location, create group chats, and of course, send live and recorded voice messages, walkie-talkie-style.
To match Windows Phone 8's seamless, simplified interface, the Voxer WP8 app is designed with tiles. WP8 exclusive features include a continuous horizontal scroll feature in the app and a favorites section to pin your favorite and most frequently used chats.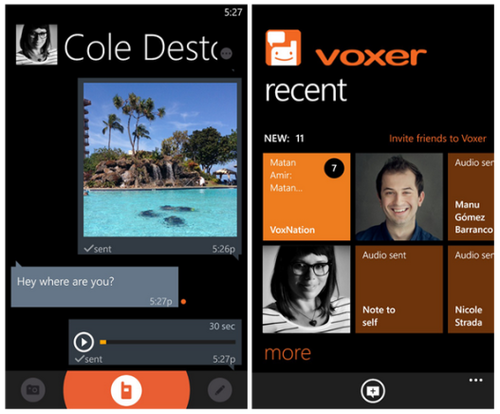 We here at Voxer couldn't be more excited. This is the third platform Voxer supports (iOS, Android, & now WP8). And a new application means more people can now join the other millions of members of our community in the Voxer Network. Welcome WP8 Voxers!