How Voxer Business Helped Future Cab Scale, Expand & Increase Revenue
It's an exciting time here at Voxer! We recently launched Voxer Business, our Voxer product optimized for businesses. With brand new added features such as admin capabilities, extreme notifications, mapping abilities, enhanced support, and larger group chats, Voxer Business is designed to help businesses operate more efficiently.
Our team has traveled the globe talking with businesses in every sector imaginable about how Voxer Business can help their business.  We recently touched down in NYC to talk with Future Cab owner, Tom Brennan, to discuss how Voxer Business has accelerated Future Cab's growth.
Tom explained that Future Cab used to rely on CB radios and old Nextel Radio Phones to communicate with each other and dispatch rides. Using Voxer Business' push-to-talk technology, Future Cab has eliminated their Taxi dispatch software. Future Cab's entire fleet of cars now uses Voxer Business to dispatch every single ride Future Cab books in cities all over the world.
Tom emphasized that the speed and seamlessness of Voxer has actually helped him scale his company. In a review on Voxer Business in the Google Play Store, Tom said, "You need this app. Your company will make money. Your employees will thank you. You will no longer be waiting for voicemails to load. You will no longer be wondering where people are. Use this service and dramatically improve your ability to reach more people in less time. Implement this service throughout your company and see the power of instant, secure communication energize your whole workforce. Voxer Business is a weapon, use it like one".
Voxer Business has even increased Future Cab's profits. Describing Voxer's impact, Tom said, "It's quick communication, and that saves time. And time is money. It triples or even quadruples our profits, and that's a pretty cool thing".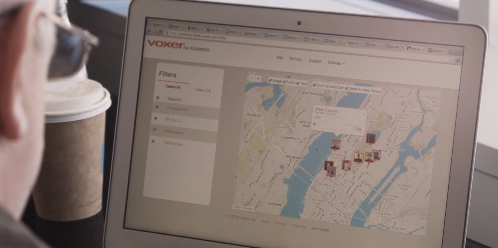 Learn more about Future Cab and watch the video below to hear Tom's complete story with Voxer Business.