Voxer Business at Enterprise Mobility & Mobile Device Management Conference
Last week, Voxer attended Enterprise Mobility & Mobile Device Management presented by Whitehall Media in London to speak about Push-to-Talk technology for the modern workplace. 
Voxer's own, Dan Caul opened the presentation with an introduction to Voxer Business. Shortly thereafter, Intel Capital's Managing Director, Rob Rueckert took the stage to discuss how Intel is using Voxer Business.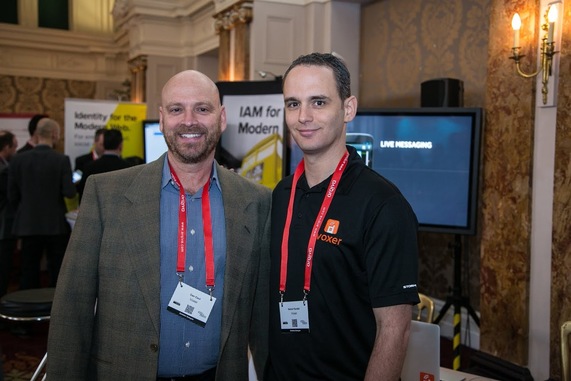 Voxer's Dan Caul and Itamar Kandel
Every year Intel holds an internal event for their entire Sales and Marketing teams. The organizers of the 5,000 employee event previously used rented two-way radios to organize all the vendors and setup of the event, until they discovered Voxer Business.
With Voxer Business they enjoyed the benefits of having live and recorded messages that worked over any data network. This meant they could use the WiFi when inside at the event, and a cellular connection when they were outside organizing vendors and shipments.
And they especially loved the money that Voxer Business saved them. In the past, Intel paid $72,500.00 to rent 250 radios, and a repeater to make the radios work correctly in the venues, just for the days when the event was held. Many of those radios went unused, and inevitably many of them were lost. Intel paid only $4,975.00 to use Voxer Business on both Intel and employee owned smartphones, for everyone involved in coordinating the event for two months, and this provided a cost savings to their event group of $67,500.00 for just one event!
Intel's Special Events Coordinator, Tammy King was quoted in the presentation, "For anyone who does conferences of 300 people or more, using Voxer is so much better than lugging around a radio. It's affordable, and the recorded voice is a huge plus."
You can watch the video of the presentation in it's entirety below. if you have any questions, please contact sales@voxer.com.