How Voxer Business Transforms Communication for Field Service Workers
One of the greatest challenges for a company with a mobile and distributed workforce is keeping employees connected, especially when they are spread out over large geographies. Managing workers who are frequently on-the-move requires constant communication to make sure that employees are on task, on time, giving regular updates from the field, and being held accountable for their work. These are critical needs for field service companies, and traditional push-to-talk (PTT) services are not delivering effective solutions to accomplish these day-to-day business operations.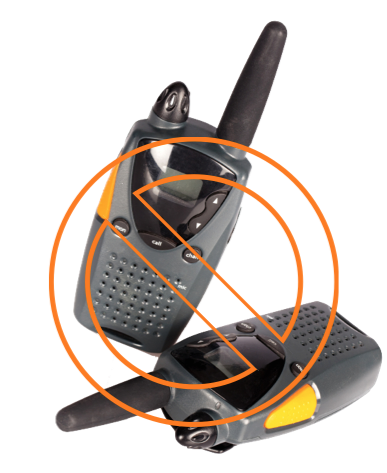 Problems with Traditional Push-to-Talk and Phone Calls
Nextel once represented the gold standard in wireless push-to-talk, but the service couldn't keep up with advancing technology and usage was in steady decline before they shut down the iDEN network in 2013. Since then, Sprint, AT&T and Verizon have touted their PTT services running on 3G data networks, yet failed to provide a solution that combines utility with modern functionality.
CB radios lack multimedia capability and are not interoperable with multiple devices and networks. Not to mention, if you miss a message on a CB radio, the message is gone. When communication can only be live, important information is lost when an employee is unavailable. And often in field service roles, employees are not in their vehicles, which makes them unreachable. This wastes time and causes delays which can affect a company's bottom line.
Many businesses with field service operations now give their employees smartphones or tablets, and use calling and texting as their primary means of communication. However, for dispatch-driven companies, this can mean employees and managers are making thousands of phone calls per day, which is incredibly inefficient, or sending thousands of text messages which can pose safety risks in the field.
How Voxer Business Can Help
1. Works on Any Data Network: Voxer Business is carrier agnostic, enabling it to work on any carrier in the world, allowing you to use Voxer Business between carriers. Voxer Business even works on WiFi so if you do not have network coverage, you can use Voxer on WiFi, making it a great option for teams that are dispersed internationally.
2. Works on Any iOS, Android, or WP8 Device: Voxer Business outpaces traditional PTT and phone calls by providing high performance instant voice and multimedia messaging on your existing smartphone. So long as you have a smartphone with access to the App Store, Play Store, or Windows Store, you can use Voxer Business. This enables Voxer Business to also work on iPods and iPads.
3. Live and Recorded: We have over 120 global patents that enable us to provide the only push-to-talk solution in the world that is both live and recorded. Voxer Business provides the speed of half-duplex live voice with low latency, but you won't miss anything, and you won't need to repeat yourself.
Roto-Rooter, the largest provider of plumbing repair services in the United States, uses Voxer Business to keep hundreds of employees connected while they are out in the field. Joyce Welage, Roto-Rooter's Director of Office Operations said,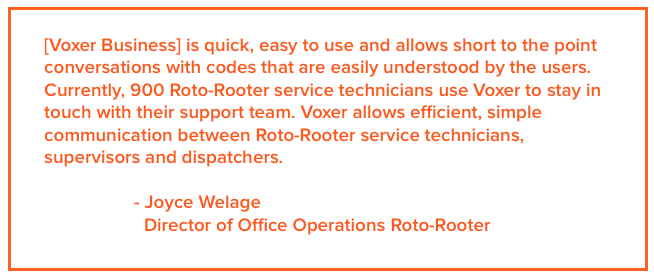 These are just three reasons Voxer Business is the ultimate communication solution for field service companies and technicians. Download our White Paper for a full list of reasons why Voxer Business is the smartest two-way radio on the planet. If you have questions about how your company can utilize Voxer Business, please email Sales@voxer.com.