Communicate with Your Entire Team with The Push of a Button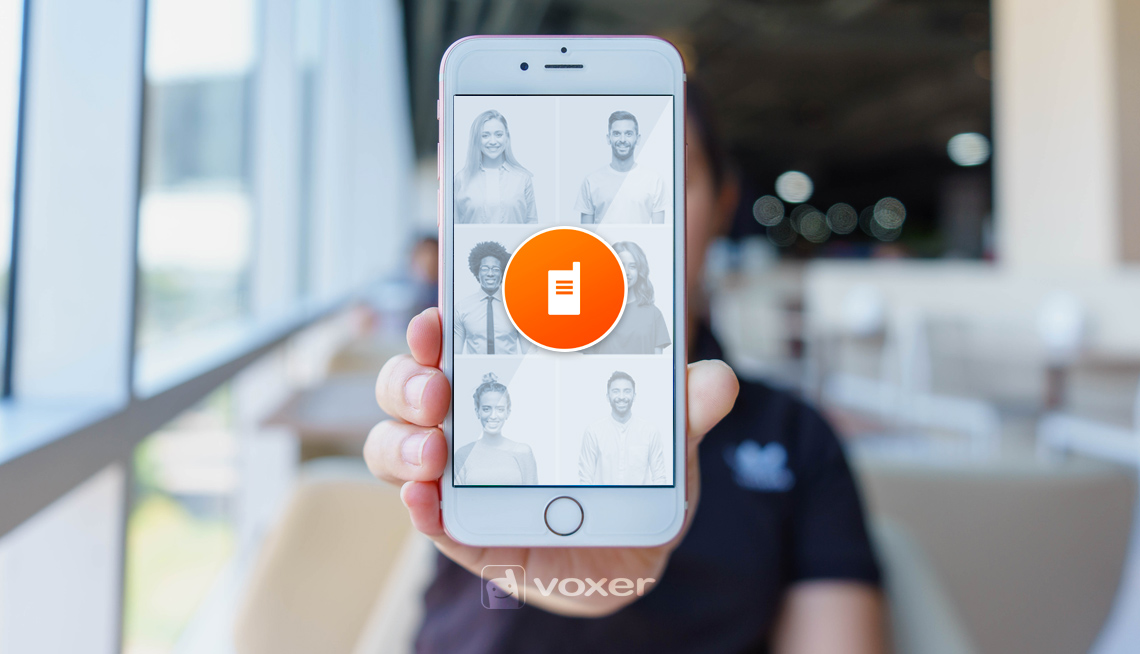 To run a successful business, good communication is key. This includes communication with your customers, investors or shareholders, and most importantly your team. Having your team on the same page at all times is critical for things to run smoothly, and operate efficiently. With the Voxer, the leading walkie talkie app for business, you can optimize your team's communication with the push of a button.
"What's the big deal? Our communication is fine!"
You might be thinking your communication is just fine with its current systems and processes. Working in the day to day of our businesses, it's easy to think everything is running okay as long as there aren't any issues or kinks in the system.
On the other hand, little issues that might not even seem relevant at first glance can build up to big ones over time. If you were to really take a step back and look at things from a different perspective, we're betting you would find that the way you and your team members exchange information, news and ideas could use some improvement.

For example, just one employee who is not yet aware of a change can cost your company money. Let's say you've decided to no longer honor customer refunds for purchases after 60 days. Your old policy was 90 days, but one or two employees didn't get the memo. Every refund they give from day 61 on, is now costing you money.
Even worse? You have conflicting information being given to your customers too. If they were to catch wind of the fact that customer service rep Tom or Joe is honoring refunds after 60 days but everyone else isn't, they might start requesting to speak to only to them, or demand to speak to a manager. Now you've not only potentially lost money, but you've also lost valuable time, and you could lose customers too.
While this may seem like an extreme example, there are many other things that could happen due to lack of communication. Little things like letting everyone know you're switching mail carriers, using generic instead of name brand ink cartridges, or only ordering office supplies in bulk to save on shipping – all those tiny details that might not seem important if they happen once or twice. The reality is that they can add up to big financial costs over time.
To grow your company, and improve your bottom line, you must always be considering ways to make things better. Stellar communication is a big part of that. It's critical that everyone from the CEO to the most entry-level employee all be on the same page for policies, news, and critical information.
Your current mode of communication could be costing precious minutes you don't have to waste.
Case in point: relying on emails, phone calls, and even text messaging. While this might seem to be the most effective way to communicate, it leaves a lot to be desired when looked at more closely. Let's break it down, shall we?
Emails are becoming the most ineffective manner in which to communicate with your team.
Not only do you have to rely on your recipient to be waiting by their computer to receive the email you sent them, but they also need their email to be opened at the time it was received to even notice it is there. Given that more people turn off their notifications and keep inboxes closes to avoid distractions these days, that memo (no matter how critical) might not be seen until much later in the day.

So, if it's an important email, you'll just call them too.
That's great, but what if they aren't at their desk? Now you have to leave them a voicemail, and you're still stuck waiting for a response. When they do get back to their desk, they might not notice they have a voicemail right away, and you'll be waiting anyway. Time's wasting…
"Fine! I'll send them a text as well," you think.
That could work. Sure. If your office has good cell phone reception for instant delivery, that is. Let's say you don't though. The message might not go through. Or, it could go through on your end, but not be received on theirs. Bottom line, you're still going to be left not knowing if they received the message unless they respond instantly.
Before you know it, they respond via email, and text, and call you back for good measure. Meanwhile, you've moved on and handled it some other way and they wasted time and energy for nothing. Talk about a cluster of confusion that could have been avoided.
Enter Voxer: The Leading Walkie Talkie App for Business
Imagine being able to send news to everyone on your team at once, and being able to see whether or not it has been read. Voxer has read receipts available that allows you to see that your message was sent, and lets you see if it was delivered and/or read.
Here are some additional benefits of using Voxer for your team's internal communications:
You can send a message, or begin a chat with an individual team member, or do a group chat with up to 500 individuals.
Voxer offers voice-to-text transcription so that your team can see a written copy of audio messages instead of listening to them.
You won't have to worry if a user's phone has hit text capacity. Voxer's Business and Pro plans offer unlimited message storage and gives each user access to their entire message history.
Every message sent and received is encrypted so security won't be a concern.
You're not limited to audio and text with Voxer. You can send your team photos, videos, gifs, and share your location as well.
Remember that lack of cell service we mentioned earlier in the article? Voxer can be used on devices anywhere with WiFi or an internet connection. And, if for some reason the user's phone can't be accessed at the moment, you can listen and respond to your contacts from a desktop.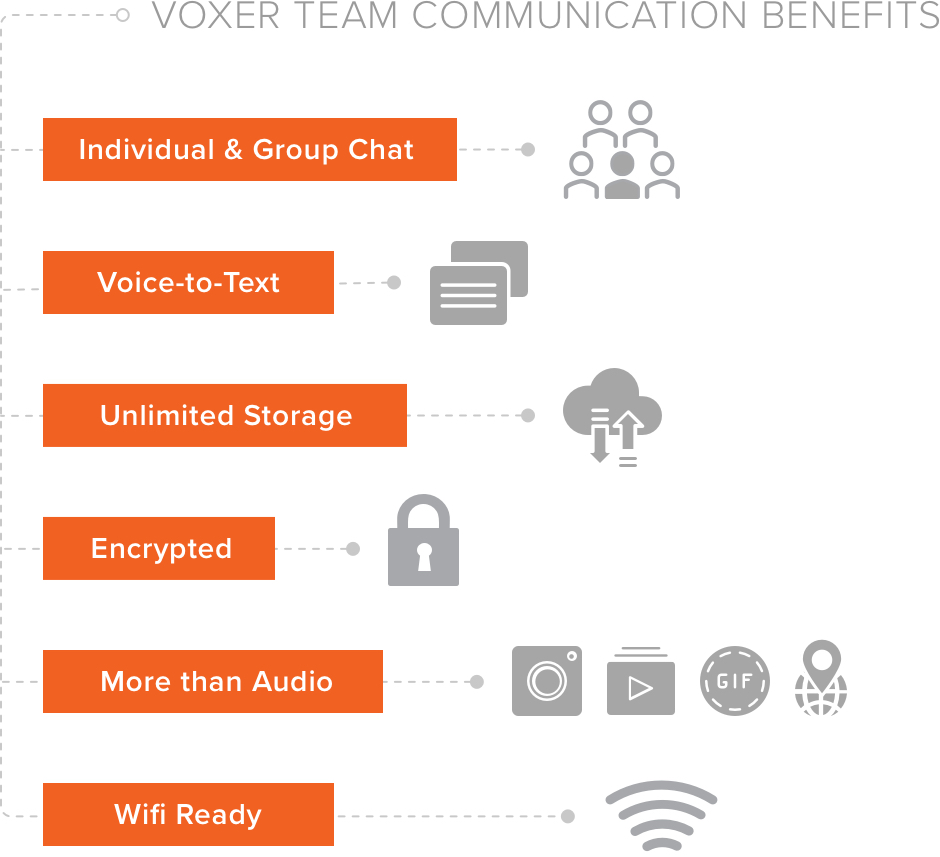 With Voxer, messaging and communicating with your team members is streamlined and simplified. No more guessing games, waiting games, or lack of understanding. With one simple tool, everyone in your team will know what's expected of them, and have instant access to important information and updates.
The many parts of your business must keep moving for it to continue operating at maximum capacity. Sometimes that means replacing pieces that are no longer working. If your way of communicating is no longer working in your business, it's time for a change. In fact, it's time for an upgrade, and Voxer is the best tool available for communicating with your team.
Are you ready to take your team's communication to the next level? Try our walkie talkie app for business today. Click here for a 14-day free trial!