Announcing Voxer for Web 1.2.0
We recently launched Voxer for Web, the complete push-to-talk Voxer experience you have with the Voxer app, now available on your laptop or desktop! Our web team has been listening to your feedback, and we are happy to announce Voxer for Web 1.2.0 is now available for all Voxer Business users. Version 1.2.0 is complete with new improvements that will make your Voxer for Web experience the best yet. 
Improvements Include:
1. Increased Speed: Clicking the Push-To-Talk button used to create a one-two second lag before you could begin recording, this has been fixed and now works instantaneously! The increased speed cuts down the message sending time by over ninety-eight percent!
2. Chat Width: Chats are no longer stretched to fit the screen when switching from multiple chat windows to the only one open at a time. Chat windows are now sized accordingly to the width of the screen and number of chats you have open.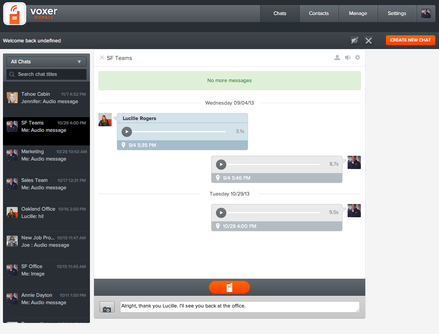 3. Image Scaling: Image sizing has been improved too! Opened images are now scaled to the size of the screen.
We hope these improvements make your experience on Voxer for Web even better! Questions or feedback? Please let us know in the comments below or reach out to us directly by emailingsupport@voxer.com.