7 Reasons Your Construction Business Needs Voxer Business
If you're in the construction industry, you understand how important it is to keep your projects on time and on budget. Successful projects are the result of successful team communication and collaboration. The traditional two-way walkie talkie systems used by many construction companies are limiting and can prevent your team from successfully communicating, preventing your projects from being successful too. 
Allow us to introduce you to Voxer Business, the next generation of push-to-talk technology that gives you more capability and flexibility than any other communication solution on the market. Voxer Business is a multimedia push-to-talk application that enables you to send live or recorded voice messages to groups or individuals. Here are a few ways Voxer Business can help your construction business.
1. No Connectivity Restrictions: Voxer works seamlessly as you move between areas of great connectivity and no connectivity. If you're working at a site with no connection, messages will be recorded and saved until your connected is restored.
2. No Range Restrictions: With traditional two-way walkie talkies, you are limited to the range of the devices, because Voxer runs on 2G, 3G, 4G or WiFi, you can use Voxer anywhere you have a cellular signal or WiFi connection.
3. Your Smartphone is Your Walkie Talkie: You will no longer need to carry both your phone and your walkie talkie around with you because Voxer turns your existing smartphone into a walkie talkie. Voxer can function like a walkie-talkie and stream messages directly from your smartphone, even when you aren't inside the app.
4. Keep Mobile and Stationary Teams Connected: Voxer for Web enables project managers to manage multiple teams at multiple sites all from a computer. With Voxer for Web, you get all of the same functionality of Voxer's app on your desktop or laptop. One customer now saves over an hour of time per day with Voxer Business because their teams can check in remotely in the app using Voxer's location feature. Teams no longer have to come to the main site to check in and can go directly to their project site.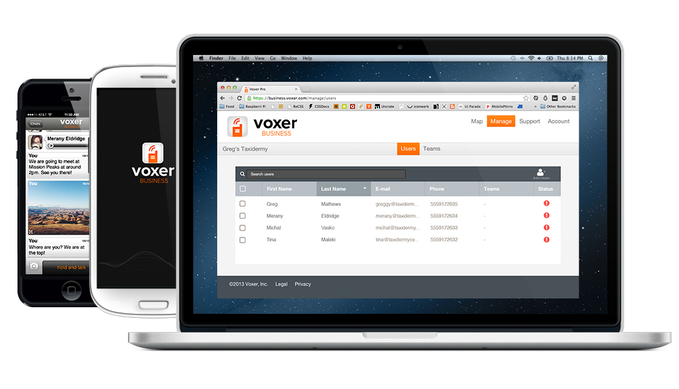 5. Broadcast Information Quickly: With the Voxer Business Manager, you can create teams and relay information to teams, groups of teams, or selected individuals, making team communication seamless. Everyone in the selected group receives the same information at the same time. Communicate with your team, suppliers, contractors, and designers all in one place.
6.Extreme Notifications: Construction sites are loud, making it easy to miss incoming messages or phone calls. Voxer's Extreme Notifications are really loud, repetitive alerts that go off every ten seconds for five minutes, or until you listen to the message.
7. Multimedia Messages: Not only does Voxer enable you to send voice messages, but you can also send text and image messages. Image messaging can come especially in handy if you need to send a picture of a site to your team, share Gantt charts, or coordinating with suppliers.
These are just some of the ways Voxer Business can help the efficiency of your Construction Business. Download our construction industry white paper to find out all the ways Voxer Business can improve your team communication.


Questions? Please get in touch with us directly by contacting sales@voxer.com.