Why Two-Way Radios Could Be a Huge Expense for Your Business
Walkie-talkies are used all over the US by individuals and businesses for all different purposes.
Usually these two-way radios are GMRS (General Mobile Radio Service) and FRS (Family Radio Service) radios. Most people don't know, but there is an enormous price difference between the two. While FRS radios can be operated on an individual level; say if you want them for a family camping trip, GMRS radios require you to pay an FCC license fee of $85.00 for a five year permit.
It can be a huge disappointment to learn the $20 pair of radios you purchased at Target require a licensing fee to legally operate them. It's easy to miss this important piece of information because most of the time it's printed on the back of the packaging in fine print.
If you walk into car dealerships, car washes, golf courses, and outdoor supply stores you'll see 2-way radios sitting on the shelf. If those are GMRS radios that business owners picked up on Amazon and are using for business purposes, it is completely illegal. There is no license fee you can pay to use GMRS radios in a business setting.
Even worse, if the FCC finds out, you can pay a massive fine of $10,000 per radio! The FCC has started to crack down on companies like a shopping center in California, or a clinical laboratory called Remel who was fined a whopping $30,000.
So what does this mean for a company? Companies have three options; chance it and risk getting fined, get a business band license and some business grade radios, or use the alternative, Voxer Business.
Voxer Business works on any Android or iOS device. If a company wants to save money on equipment, they could easily use a older Android device or refurbished iPod so long as the devices have WiFi capabilities. Voxer Business has all the functionality that a GMRS radio has with live voice, but with a handful of other useful features such as:
Recording and storing of all your audio
Multiple Chat Functionality: Voxer Business eliminates the need for channels of traditional walkie talkies. Keep all of your chats in one app and talk to who you want, when you want to.
Teams: Upload all of your users and segment them into one-touch communication groups called Teams
Bluetooth Compatibility: Use Voxer Business with your Bluetooth or wired headset for handsfree communication
Multimedia Messaging: Along with live or recorded voice, send text or image messages
Location Sharing & Map: View the location of team and employees last sent message with the web or mobile map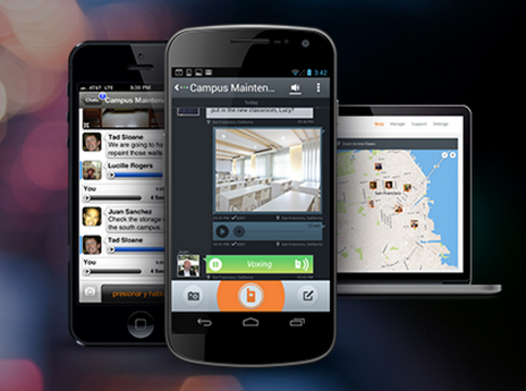 Voxer Business also works seamlessly across devices and your desktop or laptop. We recently launched Voxer for Web with Voxer Business, which makes it easy to keep mobile and stationary teams connected. With Voxer's push-to-talk business solution, it's easy to manage multiple Voxer conversations directly from a computer.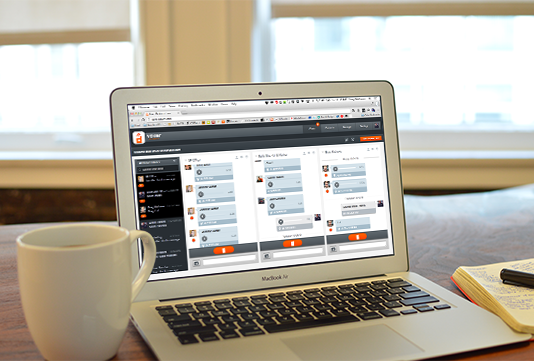 Voxer Business is only $9.95 per user, per month until the end of 2013. Businesses of the world, we welcome you to the next generation of push-to-talk. Questions? Please contact us.