Voxer Goes to Hollywood
VoxStar Summer Crocket Moore reached out to us to share how Voxer helped her and the rest of her crew on the set of the upcoming film, TRUST ME I'M A LIFEGUARD.
The film is an outrageous summer comedy due in theatres Summer 2014. The cast and crew shot the film this summer in Stone Harbor, New Jersey. I recently interviewed Summer, who acted in the film to discuss her and the crew's experience with Voxer on set!
Voxer: How did you hear about Voxer?
Summer: One of my fellow producer friends, Stacia Crawford, introduced me to it while we were filming on location in North Carolina on the upcoming film RIVERGUARD. I was on set one day, watching her talk into her phone, and then I would see someone on the other side of the room do the same thing, and that is when I realized that she was using a walkie-talkie app, on her phone, as well as having a walkie-talkie in her ear, to talk to other members of the crew.  That night, when we got back to the hotel, she gave me a quick tutorial, and I realized this app was going to literally change the way I worked, and I was immediately hooked.
Voxer: When was the first time you used Voxer?
Summer:  It was shortly after I started using Voxer for networking with friends and my social media connections, when I realized that I could use it for work on my next film set.
On the film, TRUST ME I'M A LIFEGUARD, we had multiple crew members, multiple locations, and a big distance from the production office to location, with only four walkie-talkies for our massive crew. I showed our production team the app, and they instantly downloaded it and used it throughout shooting over the next several days.
Voxer especially came to the rescue when we were wrapping up the beach location. I had a normal walkie talkie on me, but only had a range of about 10 miles, because of the wind that day, it was really only reaching about 2.5-3 miles away. I had to jump in a production van and drive down the beach,  several miles away, and with Voxer, I was able to stay in direct contact with the rest of the crew while they were shooting.  I was able to still be plugged in, in real time to the entire crew, with no stopping to text or call or check voicemails.  It was a lifesaver!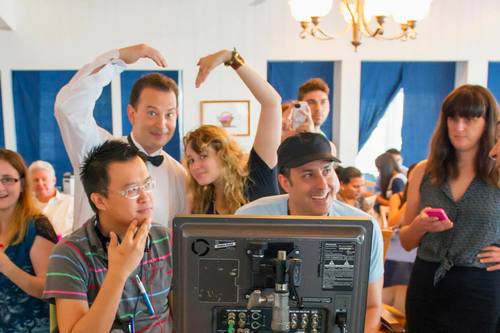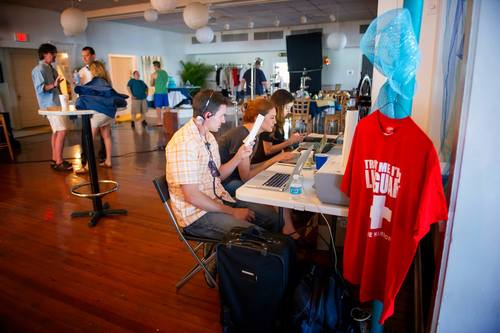 Voxer: Why did you decide to use Voxer over other messaging applications?
Summer: I instantly liked Voxer for several reasons…
– It was easy to use, with no learning curve, and very reliable.
– I like that an image comes up for the other user (profile picture), and I can play back an entire conversation, streaming, in real time.
– Ability to communicate with people all over the world with the push of a button
– I love being able to get info to people with the touch of a button, no stopping walking or driving or anything else. One day on set, I was literally running down the street while Voxing… that never could have happened while texting.
Voxer: Who do you mainly Communicate with on Voxer?
Summer:   Well, originally I signed up merely to try it out for location business usage; as a trial for my work on film sets, but now I am using it to communicate with tons of friends, actors, family members, etc. I even have a pal who is now using it in the theatre, so that she can talk to people backstage without having to go over the main headsets. Voxer gives her direct contact and privacy too!  I used it this week to contact a friend who was traveling in Spain, and she and I had an entire conversation in real time, with no cell phone data charge or bill!  Love it.
Voxer: Would you recommend Voxer for other people in other industries?
Summer: Absolutely!  It is a fabulous tool, and I that I think once people try it, they are going to love that fact that it can be in the palm of their hand — functioning on a device they already use.  I can see it being a big communication device for people in the healthcare industry .  It simplifies communication, and that's key for people who are working on the go.