Voxer Business vs. AT&T Enhanced Push-to-Talk
With the phase-out of Nextel push-to-talk (PTT) technology in mid-2013, industry leaders are quickly creating more efficient and technologically advanced PTT solutions to capture Nextel's old customer base. It didn't take long for the large carriers to realize the opportunities in the PTT market. As a result, AT&T developed AT&T Enhanced PTT, a PTT solution for AT&T's enterprise customers. While AT&T's solution offers PTT capability, it doesn't offer much else. No additional features to an eighty-year-old technology.
Here are four ways Voxer Business gives you the flexibility, functionality and convenience your PTT service deserves in the 21st century:
1. Voxer is both Live and Recorded: With AT&T's Enhanced Push-to-Talk you are limited to strictly live messages. Simliar to traditional 2-way radios, if a message is sent, and someone isn't on the other end to receive it immediately, the message is lost and cannot be replayed. With Voxer Business, every message is sent live and saved at the same time. Employees can replay messages later if information was missed, and even listen to messages sent days prior, ensuring that every individual has access to the information they need at any time.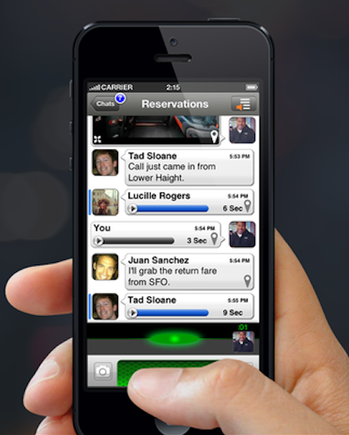 2. Voxer is Cross-Carrier: All messages on Voxer are sent using data, if data is unavailable, Voxer will switch over to WiFi. This enables Voxer to work on any carrier in the world so long as you have access to the Google Play Store, iTunes Store, or Windows Store. With Enhanced Push-to-Talk by AT&T, you are limited to AT&T's network and are only able to send and receive messages within the AT&T PTT network. Don't limit your company to one carrier, Voxer Business works between carriers so recipients, no matter who their carrier is, are able to receive your messages.
3. Not limited to strictly voice: Voxer Business gives you the flexibility to send text and picture messages as well. If you are someplace quiet and a voice message isn't appropriate, a text vox can do the trick. You can also send pictures which can be hugely beneficial on work sites or with distributed teams working in different locations.
4. Any device: As mentioned, Voxer runs on data or WiFi if data is unavailable, this not only enables Voxer to work on any carrier but a wide variety of devices as well. You won't be limited to AT&T's select Enhanced Push-to-Talk phones. Use Voxer Business on any Android device, iOS device (including iPads and iPods), or Windows Phone 8 device. Voxer Business even works on your desktop or laptop with Voxer for Web.
These are just four reasons why Voxer Business is the smartest two-way radio on the planet. If you have any questions, please contact our sales team by emailing sales@voxer.com.