4 Simple Ways to Improve Guest Experience at your Hotel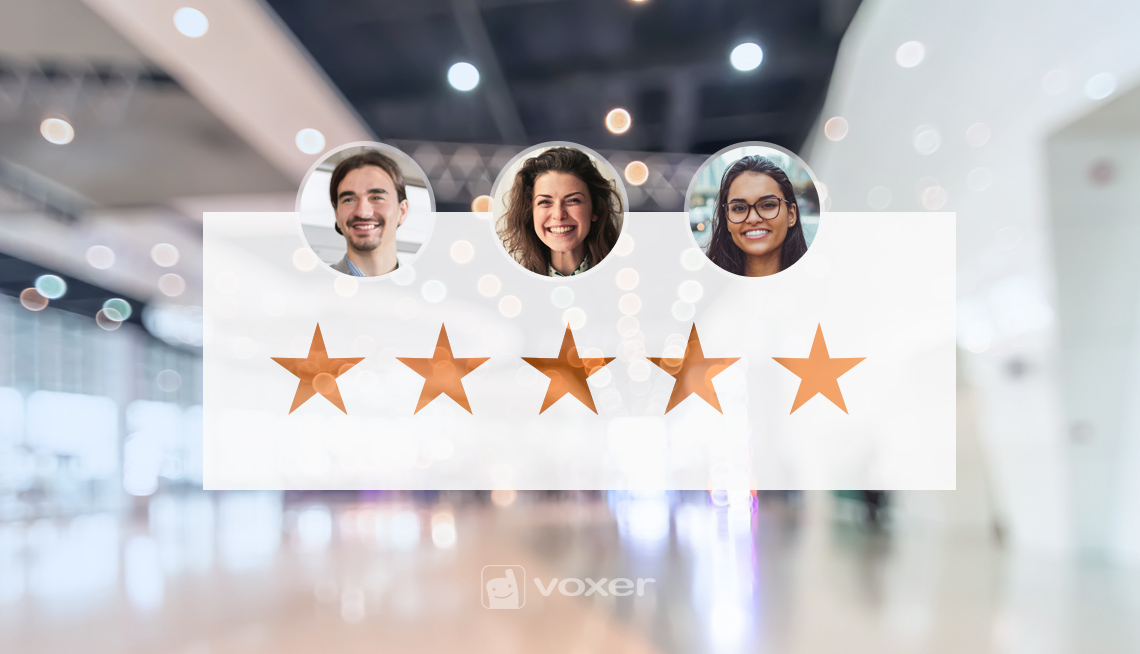 Whether you've been managing a hotel for years or have only recently started out in this role, you already know that guest experience is your highest priority. In the hospitality industry, you either live or die by what your customers say. After all, you're not providing just any service.
If you succeed in your hotel, you and your staff create an environment that guests can feel comfortable in, where they can unwind, get some rest or simply a place that they can settle down for a night or two. When you don't create and maintain a lasting positive impression on them, they'll likely just move on to one of your many, many competitors, never to return.
It isn't enough to simply claim that guest experience is your goal. You need to take action and make this apparent to your guests. The vital role that communication skills play in the workplace doesn't only pertain to your staff but extends to your guests. Hanging up a placard with your mission statement won't get the job done. But with a bit of ingenuity and a proactive attitude, you can enhance your guest experience without doing significant damage to your bottom line.
Here are 4 creative ideas you can use to improve guest experience at your hotel.
#1. Enhance Your Communication Toolkit
Before you even develop how to more directly approach your guest experience, you need to begin at the root of all your customer service: your staff communication. This might be as simple as developing more oversight or being more vigilant about how your team communicates, but it also might entail a bit more aggressive means.
For example, if you're still using walkie talkies and other two-way radios to keep everyone in your staff on the same page, the time just might be right for you to make a change and use this opportunity to dramatically improve your own communication toolkit.
While walkie talkies may have been sufficient in the past, they simply don't cut it in a day and age where mobile technology rules supreme. You can't afford the miscommunication, delayed communication and other disastrous obstacles that you might be facing with traditional equipment.
The best option? A walkie talkie app.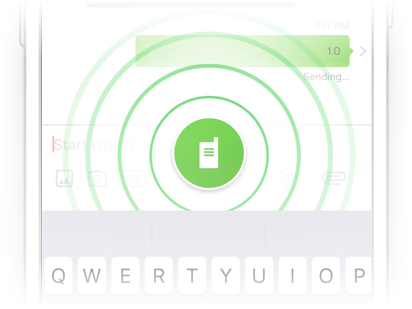 This state-of-the-art tool provides you with the ability to catch messages instantly or retrieve them after you've completed your current task. You can also send numerous kinds of content — audio, text, photos and even videos — in the same interface so that everything is consolidated. No more garbled audio or missed calls.
The difference will be night and day once you have a significantly stronger communication tool in place. Your team will be able to get more done at a faster pace, and your guests will reap the benefits of a more efficient, united staff tending to their needs. You might even be tempted to streamline some of your other back-end systems while you're at it.
It's never a bad idea to simplify your processes, as it can refocus you on customer service and even save you money in the process. Team collaboration tools create a trickle-down effect that will positively alter the rest of your business. Believe us, your guests will notice that something has changed, and you'll be all the better for it.
#2. Build a Relationship with Your Guests
As you may have surmised, investing in a communication tool for your staff is just the beginning. Sure, this will have an effect on your guest experience, but you need to dig deep to realize the true potential of your hotel to stand out among an overcrowded marketplace.
In many cases, the best place to start is to make the extra effort to reach out to your guests throughout the course of their stay. Every business boils down to relationships, whether it's two executives who manage to broker a deal regarding their two companies or the interactions between a member of hotel staff and its guests.
Best of all, it doesn't take a lot of money to engage with your guests. The answer could be as simple as reaching out via automated emails, texts or even phone calls to develop a rapport. Beginning an outreach to guests even before they arrive goes a long way to establishing the kind of trust, care, and attention that transforms one-time guests into regulars.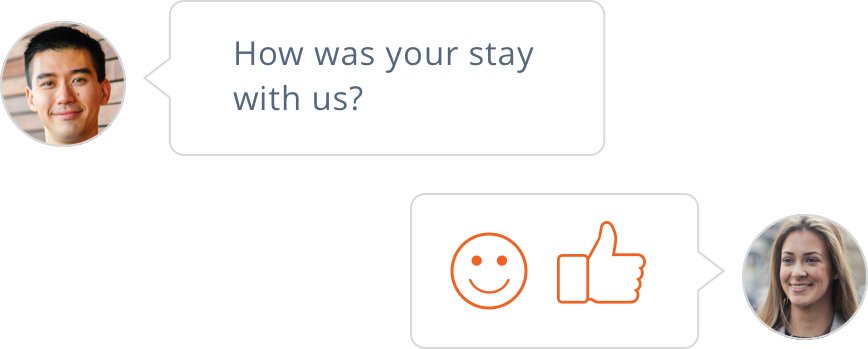 Ask your guests about their needs, if they require any additional services or about their general comfort level during their stays. Then, afterward, send out a survey about their stay, thank them for their business and take heed to their feedback. Your guests have a unique perspective and might help shape the future of your service.
You could even send out periodic marketing messages via text or email regarding discounts, to wish them a happy holiday or just to check in about any upcoming hotel stays they may be making. This low-cost effort keeps your hotel top of mind without dipping into your budget. You might also want to train your staff to read and anticipate your guests' needs.
Personal greetings and smiles go a long way to enhancing the guest experience too. Just don't allow opportunities for growth to pass by unacknowledged. When you find something that works, institute it across the board as an ongoing part of your policy. Then you're that much closer to building a guest experience like no other.
#3. Provide Easy, Inexpensive Amenities
Little touches can make a big impact, especially for travelers. Your guests have a lot of options for where they can stay when they hit the road (or the skies, depending on how they travel), and you want to put their mind at ease when they arrive at your hotel.
Creating a welcoming atmosphere doesn't have to take a lot of time or money either. But it does communicate a ton to guests without you or your staff ever having to utter a word. More elaborate amenities like a pool, fitness room and the like, obviously involve a lot more investment. Still, you can institute some game-changing features now that can help your guests feel comfortable with their decision and excited to return.

One way to do this is a token of your appreciation upon check-in. When each guest receives their key, present them with some freshly baked cookies or another small treat, such as the customary mint or other chocolate on your guests' pillows. This says that you're happy to have them there and provides a sense of warmth that will set the tone for their stay.
While you could also offer low-cost breakfast options for guests, at the very least you can have a pot of fresh coffee waiting in the lobby at all times. This further cements your connection with them, since you're fulfilling a need and one that has a minimal impact on your budget. Honestly, something like free Wi-Fi contributes greatly to the guest experience, especially now that it has quickly become customary for hotels to offer this to their patrons.
Regardless of what steps you take, you'll find that you have endless possibilities for ways in which you can demonstrate your appreciation for guests with an additional amenity or small token. Though they may not seem like much, these can add up to create a lasting positive outlook on your hotel that ensures that new guests will return to experience that same attentive service again in the future.
#4. Keep the Lines of Communication Open
We've discussed above the ways in which you can upgrade your communication tools to bring your staff together to get things done faster and more effectively. But there is more than one way that technology can improve the guest experience in your hotel. Because in addition to creating the opportunity for better communication among your staff, you can also open the communication lines between your staff and your guests.
Technology has already revolutionized how we lead our lives and connect with each other on a personal level. So you need to be thinking about how you can leverage this to develop your business and propel your growth strategy forward.
In short, you need to make your staff available to your guests as much as possible. That could mean having extended (or even 24-hour) availability to respond to text or online messages. But you should at least offer multiple ways that guests can reach out to you if they have a question, feedback to offer or another point they need to communicate to you as soon (and as conveniently) as possible.

So many people nowadays rely on online communication that your hotel should be using this as one more chance to make the guest experience that much easier and richer. The only cost is the initial setup to get these processes put in place, and then from there onward, you only have the benefits to enjoy, as will your guests.
Consider, for example, business professionals or busy families who may be staying at your hotel. They might not be able to find the ideal time to make a phone call and may count on the advantage of being able to simply submit a written message on their mobile device. With such capability, they could request service and share important messages with the hotel staff while away and have those requests met by the time they return to your hotel.
You'll be able to provide personalized service without any additional fuss, giving you a chance to streamline your workflow at the very same time. Some hotels are already turning to smart technology to recognize requests and bringing automation into the industry like never before.
An Educated Guest
Actions truly do speak louder than words, and the above tactics will make it easier for you to step up your guest experience in ways that will make a definite impact. One helpful way to view such improvements is as an opportunity to teach your guests what your hotel is all about.
What are your values? How committed are you to your mission?
Even if they don't realize it, your guests certainly take notice when you and your staff go the extra mile. And when they do, they're far more likely to consider your hotel for their needs as well as spread the word to others.
Marketing tends to dominate the conversation when it comes to building your business, and while this too is integral, you can't overestimate the fundamental power of top-notch customer service to get people talking. So, as you consider the importance of communication in the workplace, remember that how you and your staff interact among themselves is only a part of the picture.
You also need to ensure that you connect with your guests on a personal level, imbuing each stay — whether it's one night or several — with a welcoming air that will keep them coming back again and again.