4 Questions to Ask When Choosing a PTT Solution for Your Business
There are many factors to consider when choosing a PTT solution for your business. Every business has their own unique communication needs. If you are looking for a Nextel Push-to-Talk replacement, please consider the following:
1. How much administrative control is available?
Any communication platform used in a business must have administrative control. If employees join or leave the organization, it's imperative to quickly and easily make changes to employee's access. Additionally, administrators and company executives need to have access to all data and conversations in the case of legal issues. With Voxer Business, one or multiple admins have complete control of the Voxer Business Manager, easily allowing you to add or remove employees as needed. Complete conversations and all data within your business can be sent to you upon request.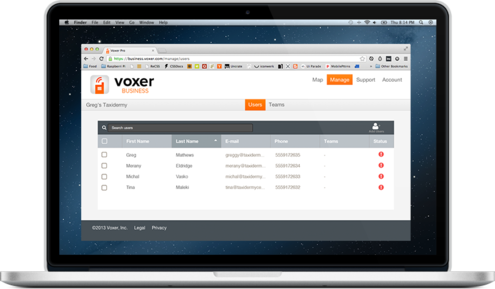 2. Is the solution cross-carrier?
Depending on your organization, you may or may not provide cellular plans to your employees. If you do not provide cellular plans, you most likely have employees on many different carries. If this is the case, it's necessary to employ a PTT solution that can work on any carrier and between carriers. Voxer Business works on any carrier (as long as you have access to the iTunes Store, Google Play Store, or Windows Store) and messages can be seamlessly sent across different carriers. Additionally, Voxer Business only uses about as much data as an email application on your phone. To put that into perspective, to use 1GB of data on Voxer, you would need to send 75,000 messages of an average length of 8-10 seconds!
3. How flexible is the solution?
Push-to-talk today has a lot more bells and whistles than traditional Nextel Push-to-Talk had, and it's essential to make sure these extra features solve communication problems within your organization. Are you limited to live audio only? Are there additional messaging options? With Voxer Business, your messages are both live and simultaneously recorded, so if an employee misses a message, they can go back and listen to the message when it's convenient for them. For easier information exchange, Voxer also provides text and image messaging along with voice messaging, enabling you to communicate how you want, when you want.
4. Does it work on multiple platforms?
Do you know how many devices are used within your organization? Combine that with personal devices and tablets that employees use at home. Your business needs a solution that can be accessed from an array of platforms. The more accessible your PTT solution is, the more likely your organization is to use it. Voxer works on any iOS device (iPhone, iPad, iPod), Android device, Windows Phone 8, even your desktop or laptop. With Voxer for Web, you have the same push-to-talk functionality you have on your phone on your computer. So no matter what devices your employees use, they can access Voxer Business whenever they need to.
Interested in learning more about Voxer Business? Join our interactive Web Demo: Introducing Voxer Business on January 28th. Or watch our video 'All About Voxer Business'. Or get in touch with us directly by emailing sales@voxer.com.