The 4 Must-Knows of Walkie Talkie Mode
If you are an iPhone Voxer user and have been contemplating getting Voxer Pro, than there's no better time than now! Today we are so excited to announce that Walkie Talkie Mode has arrived to iOS! With the iOS release of 2.7.1, now iOS Voxer Pro and Voxer Business users can enjoy turning their iPhone into an actual, real-life, hands-free walkie talkie.
What is Walkie Talkie Mode? Walkie Talkie Mode is a premium Voxer feature available on Voxer Pro and Voxer Business that allows you to use Voxer hands-free using a bluetooth wireless headset or wired headset. With Walkie Talkie Mode, you can receive and listen to audio messages, live without touching your phone for up to five chats and have the ability to respond back to one chat. Once you turn on Walkie Talkie Mode, messages will be streamed live to your wireless or wired headset, even if the Voxer app is not open, and your phone is locked. You can respond back to one chat using your headset or bluetooth device.
Why do I need it? Have you ever been walking with your hands full when your phone goes off and you can't answer it? How about doing something at work that requires two hands when an important call comes in? With Walkie Talkie mode you don't have to choose between the task at hand and the incoming Vox. Now that's some multitasking!
Alright, give me some examples: We have many Voxer Business users who say they couldn't imagine their business without an app with functionality like Walkie Talkie Mode. Windom Windows in Seattle is a high-rise window cleaning company. When suspended fifty feet in the air washing windows, their team doesn't have an extra hand to pull out their phone and listen to a Vox from the team about next instructions. With Walkie Talkie Mode, they can talk and clean without ever needing to check their devices! Watch the video case study here.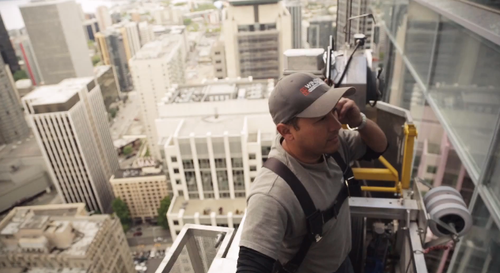 One of our Business users is a construction company that uses Walkie Talkie Mode on site when their teams are moving equipment, operating machinery, or loading trucks with supplies. They tell us they are able to get the job done quicker because they don't have to constantly stop what they are doing to communicate.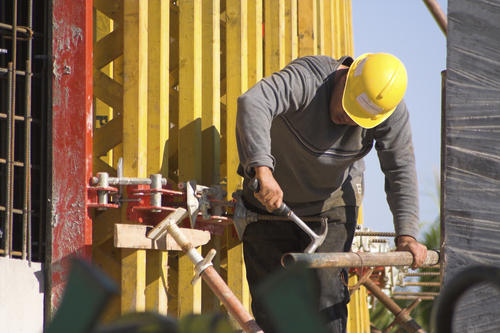 But I'm not a business, just a consumer user.. Why do I need it? Even if you aren't using Voxer to wash skyscrapers or build houses, there are times when you need to be hands free. One of our users says she uses Walkie Talkie Mode to talk with her husband when she is taking care of their kids. She will be doing laundry, changing diapers, preparing dinner and can Vox back and forth with her husband hands free about dinner plans, what to pick up at the store, and what errands need to be done.
Another user of ours loves to cook, but he is still learning. A sophomore in college, he is just learning to cook and uses Voxer's Walkie Talkie Mode to Vox with his sister about cooking tips while he's cooking. She can Vox him tips and instructions and he can listen while simultaneously cooking!
You can download the new upgraded version of Voxer for iOS now with Walkie Talkie Mode here. Walkie Talkie Mode is also available for Android devices running on 1.2.2 or higher. Download for Android here.
For more information or to learn how to turn on Walkie Talkie Mode on your iPhone, please visit this page.
For Android devices, visit this page.
Please note, Walkie Talkie Mode is only available for Voxer Pro and Voxer Business users. Voxer Pro and Voxer Business users have upgraded features including Walkie Talkie Mode, premium support, and Extreme Notifications.
As always, if you have questions or feedback please let us know support@voxer.com