NASA Using Voxer Push-to-Talk in Extreme Environment Simulations
Exciting things happening here at Voxer! This week, the NASA Extreme Environment Mission Operations project (NEEMO) is using Voxer for primary communications and for potential use in future exploration missions, including trips to Mars! 
NEEMO is a NASA analog mission that sends astronauts, engineers and scientists to live in Aquarius, the world's only undersea research station, to simulate space exploration conditions for field tests of new technologies and systems.
To simulate trips to Mars, Voxer implemented an artificial delay of between three and twenty minutes that replicates the delay between space explorers and mission control. During a demonstration with NEEMO 18, Voxer was able to ensure messages were delivered according to the simulated time intervals, creating a realistic experience for NASA personnel.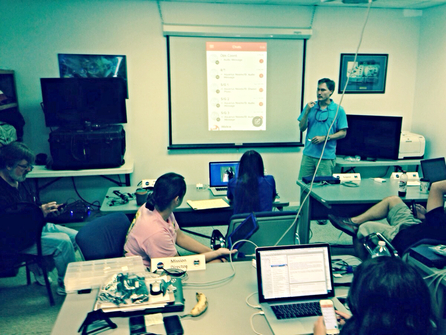 Voxer briefing for the NEEMO Mission Control Center
Voxer is being used as a communication solution for NEEMO because of it's flexibility. Voxer can be used across a variety of networks, including GPRS, CDMA and WiFi and supports a wide variety of devices including desktops, tablets and smartphones running iOS, Android, or Windows operating systems. In this case, the network includes access via a buoy that is being buffeted by 15 knot winds and six foot seas. Additionally, Voxer is compatible with headsets for discreet communications, a benefit when users are in crowded conditions or need their hands free. Unlike live-only radios, all Voxer communications can be simultaneously recorded, so users can play messages back or archive audio for their records.
"This engagement with NASA is a milestone project that demonstrates our ability to create products specifically designed for the most demanding conditions and mission-critical uses," said Jim Panttaja, Head of Corporate Development at Voxer. "NEEMO is an incredibly impressive operation with far-reaching benefits and we are very pleased to be a part of it."