Messaging app standoff! Voxer versus Facebook Messenger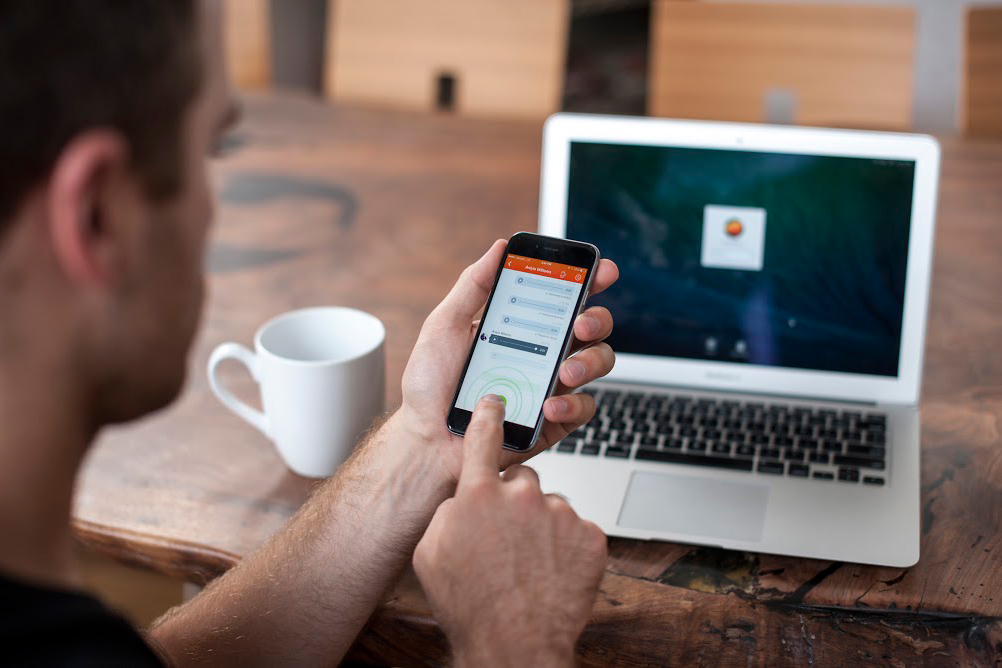 An article came out recently on Mashable: 10 hidden tricks to get the most out of Facebook Messenger. While Voxer is a different messaging app from Facebook Messenger altogether, with features that Facebook Messenger doesn't provide (live voice, for one), we couldn't help but realize Voxer has some similar hidden tricks that most people don't even know about.
1. Listen to messages live, or later
You may be on Voxer and use this one all the time, without even realizing it! Most messaging apps allow you to record audio, then send it as a message. But Voxer allows you to listen live, as someone is sending you audio. That way you can listen live now, or listen to the recorded message later. So convenient, right?
2. There's a standalone website for Voxer
Seriously, did you know that? You can keep conversations going at work right from your desk. Just log in to your Voxer account at web.voxer.com. It's also helpful if you're managing a team that's out in the field. You can stay in touch live. And your drivers, film crew, or consultants can listen live or later, and reply when the time is appropriate for them. It's great for talking to an entire team at once (large group chats), or one-on-one, and when time is of the essence.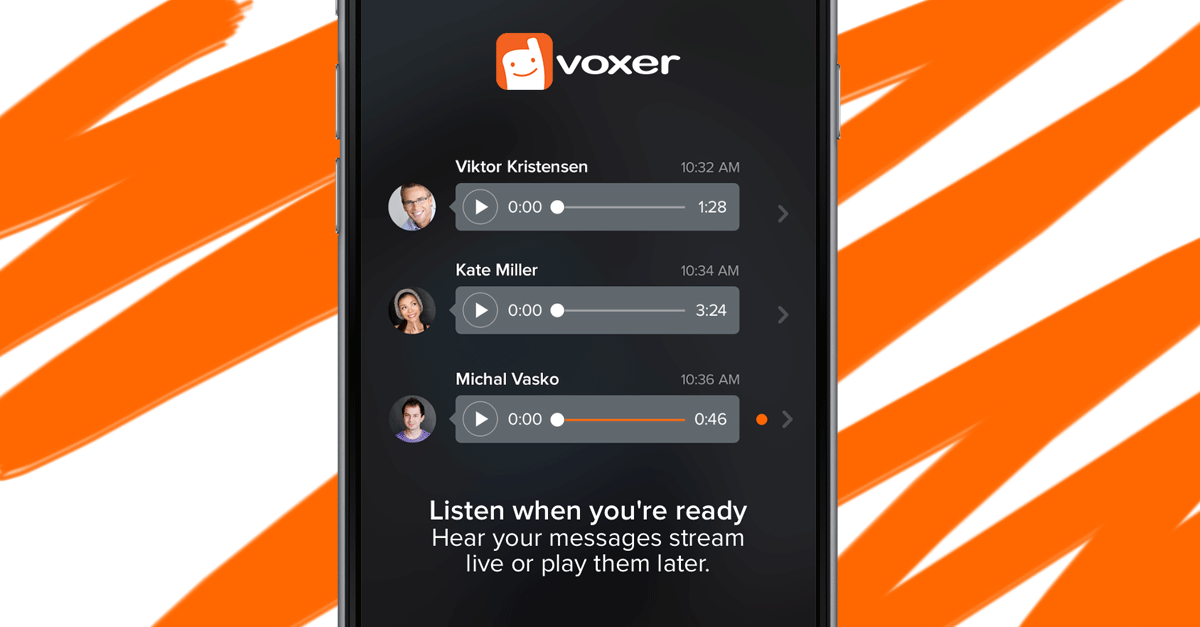 3. Mute notifications for one chat or all
Sometimes group chats are going bonkers. We get that. And sometimes you just want to mute that one, but not all of them. Tap on the wheel icon within the chat, then More Options and adjust Notifications for that chat alone. Or! You can adjust notifications for every chat in the app. Want vibrations, but not sounds? Want repeated alerts? Go to Menu > Settings > Audio and Notifications and adjust to your liking.
4. Find messages easily by starring them
You won't believe how handy this one is. Tap on the little arrow next to a message. Now you are on the Message Details page. Choose "Star". This message and all others you Star will end up in a chat in your chats list called Starred. Easy peasy!
5. Use Voxer handsfree
A lot of people use Voxer for this feature alone. And it's one that not many know about. It's called Walkie Talkie Mode, which allows you to send and receive messages handsfree from a bluetooth or wired headset. Pretty nice, right?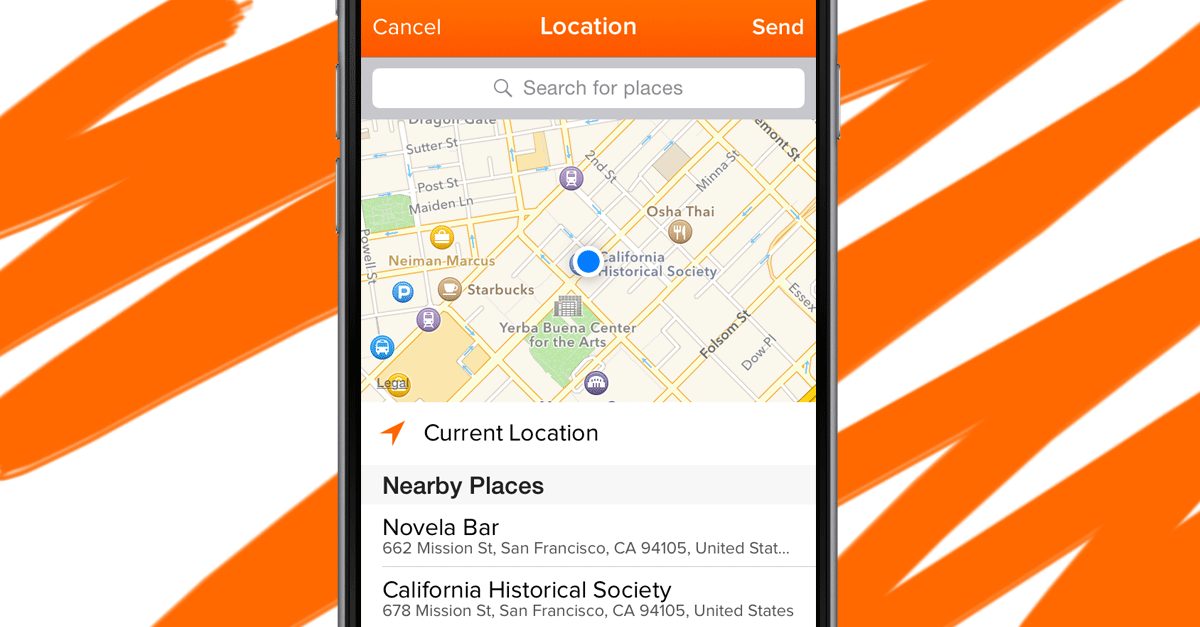 6. Send your location
One caveat: it's currently only on iOS. We know, we know! It should be on Android too. Believe us, it's on the list. In any chat on Voxer for iOS, tap on the camera icon and choose Send Location. Meeting up for happy hour is so much easier now!
7. Inviting your friends is easy
We bet at least a few people you know are on Voxer. If not, just send them an invite link. Go to the menu and Invite Friends. Another way is via a link to your group chat. Go to the wheel icon in a group chat and select Share Chat Link (this won't be an option if it's an Admin Controlled Chat). You'll have the option to share it via SMS, email, and a plethora of social media sites.
8. Share messages
That's right, you can share messages in oh-so-many ways. Send a message via email, SMS, and to social media. Tap on the little arrow next to a message and go to the out arrow at the top of the screen and choose your sharing method. Oh, and you can also share your profile. Just go to the menu then My Profile.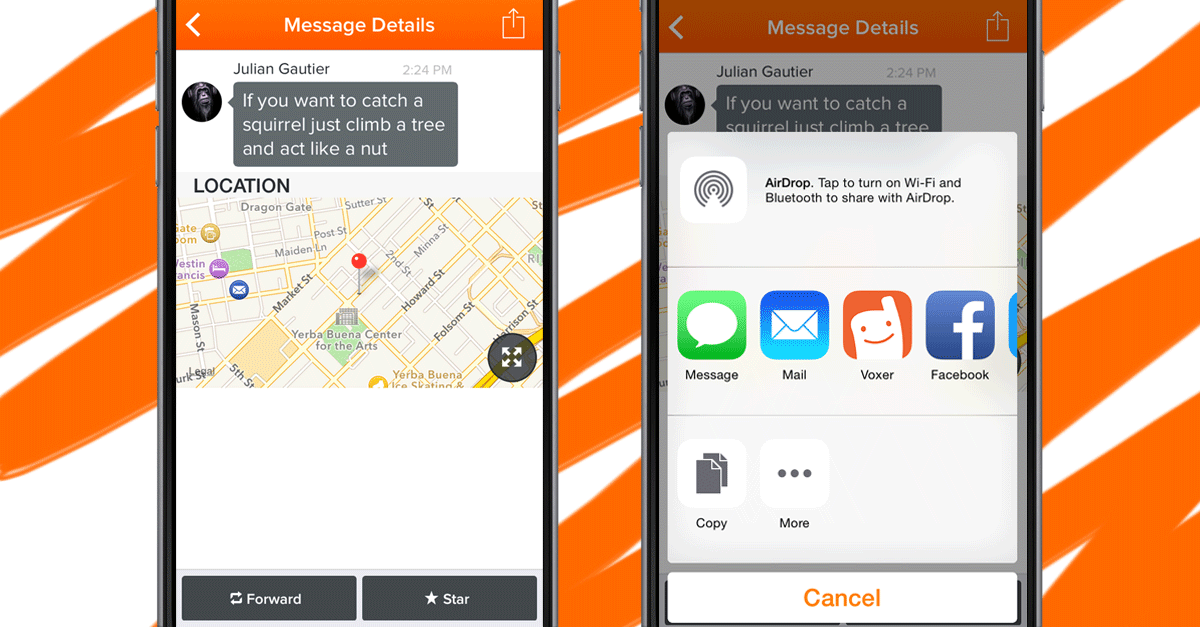 9. Delete messages
Yes, that's right, you can recall that message you sent to the wrong chat. One thing: it's a premium feature. Learn more about what Voxer PRO has to offer.
10. Share files via Dropbox
What better way to free up your device storage than with Dropbox? You can share those music files, pictures and documents with people in your Voxer chats. Tap on the camera icon in a chat and select "Choose from Dropbox".